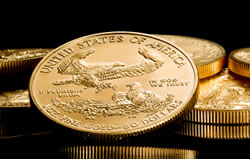 Gold closed to a six-week high Monday, extending a streak of wins to four straight sessions.
After advancing 2.2% last week, gold prices for December delivery — the new, most active contract — rose $1.30, or 0.1%, to $1,624.00 an ounce. The settlement price was the highest for gold since June 18 and the four-day rally the longest since June 15. Gold traded between an intraday low of $1,617.60 and a high of $1,630.00.
While trading volume was relatively light with many investors waiting on the sidelines, support for the yellow metal has come from expectations that separate Federal Reserve and ECB meetings this week will lead to new stimulus measures.
"It is all going to ride on central-bank action this week," MarketWatch quoted Matt Zeman, a trader and strategist at Kingsview Financial in Chicago.

"This is a market that seems to want to go higher… The Fed and the ECB could throw some wild cards in there but it looks like it (gold) will go higher," Zeman said.
In other New York precious metals futures:
Silver prices for September delivery surged 53.5 cents, or 1.9%, to $28.033 an ounce. Silver moved between intraday level of $27.515 and $28.195.

Platinum prices for October delivery closed to $1,411.80 an ounce, rising $3.60 or 0.3%. Prices ranged from $1,398.10 to $1,420.20.

Performing the best among precious metals, palladium for September delivery rallied $16.50, or 2.9%, to $588.35 an ounce. Prices traded between $569.35 and $591.85.
Last week, silver gained 0.7% while platinum dipped 0.4% and palladium lost 0.7%.
London Precious Metals
London precious metals were mixed on Monday. When comparing the London PM Fix prices:
Gold shed 50.0 cents to $1,617.75 an ounce,
Silver slipped 9.0 cents, or 0.3%, to $27.64 an ounce,
Platinum fell $1.00, or 0.1%, to $1,409.00 an ounce, and
Palladium advanced $7.00, or 1.2%, to $581.00 an ounce
Most metals in London gained last week. Palladium was the exception, falling 0.5%. Other precious metal advances included 2.7% for gold, 2.4% for silver and 0.1% for palladium.
Sales of U.S. Mint Bullion Coins
U.S. Mint bullion coins shot higher Monday. U.S. Mint distributors purchased 6,000 ounces of gold bullion coins, or 63.2% of the amount ordered in all of last week. One-day sales of silver bullion coins totaled 399,000 ounces, or 55.2% of the last week's total. The levels are more impressive considering that bullion sales last week actually rebounded significantly from the previous one.
Below are the most recent daily, July and year-to-date sales totals for U.S. Mint bullion coins.
Sales of US Mint American Eagle and Buffalo Bullion Coins
Daily Gains
July Gains
YTD 2012
$50 American Gold Eagle Bullion Coins
5,000
28,500
313,500
$25 American Gold Eagle Bullion Coins
0
0
56,000
$10 American Gold Eagle Bullion Coins
0
2,000
54,000
$5 American Gold Eagle Bullion Coins
10,000
15,000
190,000
$50 American Buffalo Gold Coins
0
4,000
79,000
American Eagle Silver Coins
330,000
2,278,000
19,670,000
Sales of America the Beautiful 5 Oz. Silver Bullion Coins
Daily Gains
July Gains
All-Time Total
2012 El Yunque National Forest 5 oz. Silver Coins
1,600
3,300
13,200
2012 Chaco Culture National Historical Park 5 oz. Silver Coins
1,500
4,200
7,400
2012 Acadia National Park 5 oz. Silver Coins
9,900
9,900
9,900
2011 Olympic National Park 5 oz. Silver Coins
200
300
85,500
2011 Vicksburg National Military Park 5 oz. Silver Coins
300
500
39,100
2011 Chickasaw Park 5 oz. Silver Coins
300
500
29,400
TOTAL
13,800
18,700
184,500
Sales of the above U.S. Mint bullion coins are in coin totals, not the amount of ounces sold.