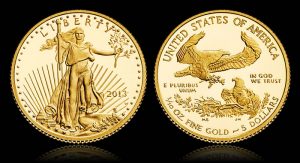 Only two options are left for collectors when it comes to the four various sized 2013-W Proof American Gold Eagles. The U.S. Mint's website noted a sell out today for the second most popular size, the one-tenth ounce or $5 denominated coin.
The most popular was the one-ounce 2013-W $50 Proof Gold Eagle, which sold out at the start of this year. Before it was gone, the four-coin set, featuring all sizes, departed from Mint store shelves near the end of 2013. That leaves two coins for sale.
Still available from the Mint are the one-half ounce 2013-W $25 Proof Gold Eagle for $795 and the one-quarter ounce 2013-W $10 Proof Gold Eagle for $410.
So far, the two sellouts have had sales totals above the series low which occurred in 2012 for all sizes. The two versions still available, however, have sales that are below the series low. The following table offers a quick breakdown of 2012- and 2013-dated coins based on available U.S. Mint sales data. For easier reading, an asterisk (*) has been placed by the 2013 coins that are sold out.
Sales for 2012 – 2013 Proof American Gold Eagle Coins**
2013 SALES (UNITS)
2012 SALES (UNITS)
2013 SALES (COINS)
2012 SALES (COINS)
1 oz
16,878
14,848
24,755*
23,805
1/2 oz
4,537
3,962
12,414
12,919
1/4 oz
4,585
4,969
12,462
13,926
1/10 oz
13,897
11,680
21,774*
20,637
4-Coin Set
7,877
8,957
N/A
N/A
**The U.S. Mint's published updated sales figures on Thursday, Jan. 16, that had an as of date of Sunday, Jan. 12. The table above was edited to include the latest totals.
Visit the United States Mint website at http:///www.usmint.gov/catalog to order any of the remaining coins.
2014-W Proof American Gold Eagles are scheduled for a U.S. Mint release in April.