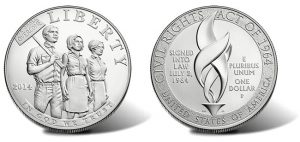 Demand would have to rise sharply for the 2014 Civil Rights Act of 1964 Silver Dollars to reach their authorized 350,000 mintage, according to the latest sales figures from the United States Mint. They are moving at a snail's pace compared to opening sales of past commemoratives.
Sales kicked off Thursday, Jan. 2, for the coins commemorating the semicentennial of the enactment of the Civil Rights Act of 1964. Available in proof and uncirculated qualities and at introductory prices of $49.95 and $44.95, debut sales through Sunday, Jan. 5, reached 14,480 across both coins. The breakdowns were:
10,056 for the 2014 Proof Civil Rights Act of 1964 Silver Dollar and
4,424 for the 2014 Uncirculated Civil Rights Act of 1964 Silver Dollar
Proof coins tend to widely outperform uncirculated coins but the proof Civil Rights Act of 1964 Silver Dollar also has the added advantage of its "enhanced proof quality." The reverse design incorporates multiple laser frosting and polishing techniques in a combination of finishes never used on a United States Mint coin.
Comparing Debut Sales of Recent Commemorative Silver Dollars
As for starting sales of the 2014 Civil Rights Act Silver Dollars, they are handily the weakest among recent silver commemorative coins.
Debut Sales
Proof
Uncirculated
Total
2014 Civil Rights Act Silver Dollars
10,056
4,424
14,480
2013 Girl Scouts Silver Dollars
29,331
12,293
41,624
2013 5-Stars Generals Silver Dollars
19,188
8,110
27,298
2012 Star-Spangled Banner Dollars
44,479
18,763
63,242
2012 Infantry Solider Silver Dollars
42,484
12,191
54,675
2011 Medal of Honor Silver Dollars
25,156
10,346
35,502
2011 US Army
46,895
20,698
67,593
2010 Boy Scouts Silver Dollars
144,732
69,941
214,673
2010 Disabled Veterans Silver Dollars
66,209
32,149
98,358
The authorizing law for the commemoratives states that sales of the coins must close by the end of the year. If they continue to show weakness as the year progresses, some collectors will grow increasingly more interested in them based alone on lower mintages.