Today, Jan. 2, 2014, the United States Mint opened ordering for its proof and uncirculated 2014-P Civil Rights Act of 1964 Silver Dollars.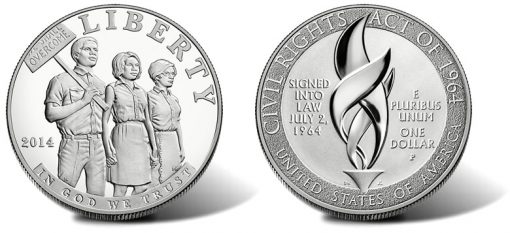 These commemorative coins are the first U.S. Mint numismatic products of the new year and they are available at discounted introductory prices for one month. Their sales performances over the next few days will be interesting to discover, especially for the proof silver dollar. Its reverse is of "enhanced proof quality" with a unique combination of finishes.
Commemorating the 50th anniversary of the enactment of the Civil Rights Act of 1964 with Public Law 110-451 authorizing up to 350,000 across both coins, prices start at:
$49.95 for the 2014-P Proof Civil Rights Act of 1964 Silver Dollar and
$44.95 for the 2014-P Uncirculated Civil Rights Act of 1964 Silver Dollar.
Introductory pricing ends on Feb. 3, 2014, at 3 p.m. ET, when regular pricing takes effect. At that time, buyers will have to pay $5 more for each silver dollar.
Designs and Specifications of Silver Dollars
Designed by Justin Kunz and engraved by Phebe Hemphill, silver dollar obverses show three people holding hands at a civil rights march with one of them holding a sign that reads WE SHALL OVERCOME. The scene is emblematic of all marches that helped galvanize the civil rights movement. Inscriptions around the image read 2014, LIBERTY and IN GOD WE TRUST. Artist initials are also present.
Designed by Donna Weaver and engraved by Jim Licaretz, silver dollar reverses show three flames intertwined to symbolize the freedom of education, freedom to vote and freedom to control one's own destiny. It was inspired by Martin Luther King, Jr. who said:
"They get the fire hose. They fail to realize that water can only put out physical fire. But water can never drown the fire of freedom."
Inscriptions to the left, right and around the design state: CIVIL RIGHTS ACT OF 1964, SIGNED INTO LAW JULY 2, 1964, EPLURIBUS UNUM, ONE DOLLAR and UNITED STATES OF AMERICA. Artist initials are also present as is a "P" mint mark to denote that the silver dollars are struck at the U.S. Mint facility in Philadelphia.
It was just last year when new laser frosting and polishing methods were developed at the Philadelphia Mint. Those techniques were applied in unique ways on several coins of the year to include the 2013-P Proof 5-Star Generals Silver Dollar, the 2013-W Enhanced Uncirculated American Eagle Silver and the 2013-W Proof American Platinum Eagle. Collectors have been happy with the results.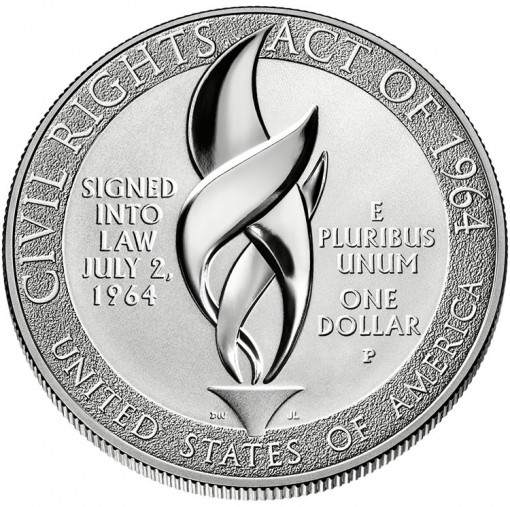 The Mint promised the design technology would be applied to more coins with 2014-P Proof Civil Rights Act of 1964 Silver Dollars the latest addition to the special design grouping.
"The reverse of this coin is of enhanced proof quality with multiple finishes. The flame is mirror polished; the field under the flame incorporates a combination of light polishing and a light laser frost texture; the lettering and torch have a heavy laser frost texture; and the circular ring with text has an accenting polish. This is the first time the United States Mint has used this combination of finishes," the Mint's website describes.
Other technical specifications for the Civil Rights Act of 1964 Silver Dollars are typical to modern U.S. commemorative coins. These include a composition of 90% silver and 10% copper, a weight of 26.730 grams, a diameter of 1.5000 inches and a reeded edge. Given each has a silver weight of 0.7736 troy ounces, their melt value or intrinsic value when silver is at $20 an ounce is $15.47.
New collectible coins are always tagged at much higher prices than their melt values. Also, prices the 2014 Civil Rights Act of 1964 Silver Dollars include a $10 surcharge paid to the United Negro College Fund (UNCF) to carry out the purposes of the Fund, including providing scholarship and internships for minority students and operating funds and technology services for 39 member historically black colleges and universities.
Civil Rights Act of 1964 Tell Your Story Set
Few details are known now but the U.S. Mint stated in a news release that it would also offer a Civil Rights Act of 1964 Tell Your Story Set. The set will include a space for someone to share their participation in the events leading up to, or how they have been affected by, the passage of the Civil Rights Act of 1964.
Ordering and Limits
As always, place orders for the new silver dollars on the United States Mint website at www.usmint.gov/catalog or call at 1-800-USA-MINT (872-6468).
Demand determines the ratio of proof to uncirculated from the authorized total of 350,000. There are no household ordering limits.
Upcoming United States Mint Coins and Sets
In other coin news, the United States Mint this week has updated its product schedule to include exact release dates for product launches from now through to March 2014. This is an addition to the preliminary schedule published in December that offered more general monthly releases.
Here is a copy of the latest U.S. Mint schedule with the new release dates:
| | | |
| --- | --- | --- |
| 1/07 | 2014 America the Beautiful Quarters Proof Set | $14.95 |
| 1/14 | 2014 Birth Set | $19.95 |
| 1/14 | 2014 Happy Birthday Coin Set | $19.95 |
| 1/14 | 2014 Congratulations Set | $54.95 |
| 1/21 | 2014 America the Beautiful Quarters Silver Proof Set | $31.95 |
| 1/23 | 2014 American Eagle One Ounce Silver Proof Coin | $52.95 |
| 1/27 | 2014 P, D, S Great Smoky Mountains National Park Quarters Three-Roll Set | $46.95 |
| 1/27 | 2014 P, D Great Smoky Mountains National Park Quarters Two-Roll Set | $32.95 |
| 1/27 | 2014 S Great Smoky Mountains National Park Quarter Roll | $18.95 |
| 1/27 | 2014 P, D, S Great Smoky Mountains National Park Quarter 100-Coin Bags | $34.95 |
| 2/06 | 2014 P, D Warren Harding Presidential $1 Coin Rolls | $32.95 |
| 2/06 | 2014 P, D Warren Harding Presidential $1 Coin Bags | $111.95 |
| 2/06 | 2014 P, D Warren Harding Presidential $1 Coin Boxes | $275.95 |
| 2/11 | 2014 Great Smoky Mountains National Park Quarters Three-Coin Set | $9.95 |
| 2/13 | 2014 Kennedy Half-Dollar Two-Roll Set | $32.95 |
| 2/13 | 2014 Kennedy Half-Dollar 200-Coin Bag | $139.95 |
| 2/18 | 2014 Presidential $1 Coin Proof Set | $18.95 |
| 2/27 | 2014 Warren Harding $1 Coin Cover | $19.95 |
| 3/20 | 2014 Native American $1 Coin Rolls | $32.95 |
| 3/20 | 2014 Native American $1 Coin 100-Coin Bags | $111.95 |
| 3/20 | 2014 Native American $1 Coin 250-Coin Boxes | $275.95 |
| 3/25 | 2014 Proof Set | $31.95 |
| 3/31 | 2014 P, D, S Shenandoah National Park Quarters Three-Roll Set | $46.95 |
| 3/31 | 2014 P, D Shenandoah National Park Quarters Two-Roll Set | $32.95 |
| 3/31 | 2014 S Shenandoah National Park Quarter Roll | $18.95 |
| 3/31 | 2014 P, D, S Shenandoah National Park Quarter 100-Coin Bags | $34.95 |