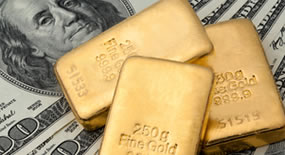 Gold continued lower Friday on the heels of Wednesday's FOMC statement that fueled expectations that the Fed will ease its stimulus sooner than anticipated.
Gold for December delivery declined $10.50, or 0.8%, to settle at $1,313.20 an ounce on the Comex division of the New York Mercantile Exchange. The closing was the weakest since Oct 16. Gold prices dropped as the U.S. dollar rallied.
"Gold has broken an addition level of support at $1,320 and is quick approaching the critical $1,300 level," MarketWatch quoted Tyler Richey, analyst for the 7:00's Report, which offers daily markets commentary. "The recent rally back above $1,350 has turned out to be yet another head fake as gold seems to be settling back into a wide range with $1,300 remaining pretty magnetic."
Gold fell 2.9% on the week after scoring two straight weekly gains of 2.9% and 3.7%. Last month, and as a result of the sharp losses on Thursday, gold prices stepped back 0.3%. On the flip side, U.S. Mint gold bullion coins registered the highest number of monthly sales since July.
Gold Forecasts
Not expecting the more hawkish-perceived FOMC statement, the majority of participants in gold surveys last week by Kitco News and Bloomberg News had forecasted higher prices. Friday revealed the newest survey from Kitco but not from Bloomberg. It turned bearish.
"In the Kitco News Gold Survey, out of 34 participants, 19 responded this week. Of these, three see prices up, while 13 see prices down and three see prices sideways or are neutral," reports Kitco News.

"Those who expect weaker prices cited the lack of inflation, particularly after this week's lower-than-expected inflation readings out the eurozone… "Those who see prices rising said the gold market's current focus on future tapering is misplaced."
For the year so far, gold has fallen $362.60, or 21.6%, from its last 2012 settlement price of $1,675.80 an ounce.
Silver, Platinum and Palladium Futures
Silver followed gold lower Friday but platinum and palladium gained. All three precious metals ended lower for the week with losses of 3.5% for silver, 0.3% for platinum and 1.3% for palladium. As for their Friday closings:
Silver for December delivery dipped 3 cents, or 0.1%, to finish at $21.84 an ounce. On Thursday, it ended the month up 0.7%.

January platinum edged up $3.50, or 0.2%, to $1,451.90 an ounce on the first day of November after soaring 2.6% in October.

Palladium for December delivery gained $1.45, or 0.2%, to close at $738.25 an ounce. On Thursday, it ended the month up 0.7%.
Year-to-date palladium stands alone with its 5% gain. Since the end of 2012, silver has tumbled 27.8% and platinum has declined 5.9%.
London Fix Precious Metals
London precious metal fixings split on Friday and on the week. When comparing the Thursday PM to Friday PM London fix prices:
Gold dropped $17.25, or 1.3%, to $1,306.75 an ounce,
Silver slid 45 cents, or 2%, to $21.75 an ounce,
Platinum rose $3, or 0.2%, to $1,453 an ounce, and
Palladium fell $5, or 0.7%, to $737 an ounce
For the week, gold declined 3% and silver fell 2.7% while platinum advanced 0.9% and palladium gained 0.5%.
US Mint Bullion Sales in November
U.S. Mint bullion coins rallied in October. The bureau's American Gold Eagles are the first with sales in November after rising by 3,000 ounces on Friday. As for weekly results across all bullion coins, here is a breakdown:
Gold coins added 14,000 ounces compared to last week's 18,000 ounces. Sales splits were 11,000 ounces in 22-karat American Gold Eagles, versus 15,500 previously, and 3,000 ounces in 24-karat American Gold Buffalo coins, versus 2,500 previously.

Silver coins added 704,000 ounces against last week's 699,000 ounces. Sales last week came entirely from American Silver Eagles. This week splits were 701,000 in Silver Eagles and 600 in America the Beautiful Five Ounce Silver Bullion Coins. A fresh milestone is on tap for Silver Eagles with 693,501 more are needed to break the 2011 annual record of 39,868,500. That could happen next week.
On Monday, expect the first round of sales for the Mount Rushmore Five Ounce Silver Bullion Coin. Monday is also when Mount Rushmore quarters debut, the last design of this year's America the Beautiful Quarters.
In coin totals, the latest daily, November and year-to-date United States Mint bullion sales figures are listed below.
American Eagle and Buffalo Bullion Sales (# of coins)
Friday Sales
Last Week
Weekly Sales
November Sales
YTD Sales
$50 American Gold Eagle Bullion Coins
3,000
11,500
10,500
3,000
649,000
$25 American Gold Eagle Bullion Coins
0
2,000
0
0
56,000
$10 American Gold Eagle Bullion Coins
0
8,000
0
0
114,000
$5 American Gold Eagle Bullion Coins
0
10,000
5,000
0
500,000
$50 American Buffalo Gold Bullion Coins
0
2,500
3,000
0
218,000
White Mountain 5 oz. Silver Bullion Coins
Sold Out
35,000
Perry's Victory 5 oz. Silver Bullion Coins
0
0
0
0
26,200
Great Basin 5 oz. Silver Bullion Coins
0
0
0
0
27,200
Fort McHenry 5 oz. Silver Bullion Coins
0
0
600
0
28,200
American Silver Eagle Bullion Coins
0
699,000
701,000
0
39,175,000