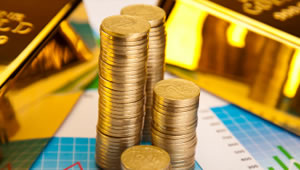 On Tuesday, gold settled to a five-week high and on Wednesday silver extended its winning streak to seven sessions to end at its highest price in six weeks. But then the precious metals were pounded on Thursday and Friday, dropping earlier gains to log their first weekly loss in three weeks.
Gold futures for February delivery on Friday declined $13.30, or 0.8%, to $1,656.60 an ounce on the Comex in New York. Gold this week fell $30.40, or 1.8%.
"Gold has taken a beating this week, trading down from almost $1,700 to [an intraday low Friday of] $1,655," MarketWatch quoted Jason Rotman, President of Lido Isle Advisors.

"This is in line with our belief that gold is in a neutral to bearish fundamental environment, with global equities rallying, and bond yields starting to tick up."
With the weekly loss, gold fell into the red for the year. Prices are down $19.20, or 1.1%, in 2013. Bearish sentiment grew as a result in weekly gold surveys.
"In the Kitco News Gold Survey, out of 33 participants, 25 responded this week. Of those 25 participants, eight see prices up, while 12 see prices down, and five see prices moving sideways," Kitco reported.

"Nearly all who said they expected weaker prices for next week cited gold's failure to break through tough resistance at the $1,700 an ounce area."
Bloomberg's gold survey of analysts and traders was more bullish with 16 of 31 participants expecting higher gold prices next week. Eleven were bearish and 4 were neutral.
Silver, Platinum and Palladium Futures
In other New York bullion futures on Friday and for the week:
March silver fell 51.6 cents, or 1.6%, to $31.206 an ounce. Silver declined this week by 72.6 cents, or 2.3%.

Platinum for April delivery advanced $11.10, or 0.7%, to $1,694.90 an ounce. Platinum for the week gained $20.90, or 1.3%.

March palladium gained $14.30, or 2.0%, to $741.00 an ounce. Palladium this week surged $18.25, or 2.5%
This year so far, platinum leads other precious metals with its 9.9% increase. Palladium follows at 5.4%. Silver is up 3.2% in 2013.
London Precious Metals
Precious metals in London fell for all but palladium on Friday. It and platinum did rise this week. When comparing the Thursday PM to Friday PM fixing prices:
Gold lost $11.00, or 0.7%, to $1,660.00 an ounce,
Silver fell 29.0 cents, or 0.9%, to $31.56 an ounce,
Platinum dipped $2.00, or 0.1%, to $1,678.00 an ounce, and
Palladium added $3.00, or 0.4%, to $725.00 an ounce
On the week, platinum gained 0.1% and palladium rose 0.4%. Silver fell 0.8% and gold dropped 1.7%.
Sales of US Mint Bullion Coins
In breaking down weekly sales of gold bullion coins, U.S. Mint dealers ordered a total of 32,500 ounces and that matched the prior week. Bullion product splits weighted opposite this round with with 5,000 ounces in 22-karat American Eagle gold coins compared to the previous week's 29,500 ounces and then 27,500 ounces in 24-karat American Buffalo gold coins versus the prior week's 3,000 ounces.
For the month-to-date, American Gold Eagles at 132,000 ounces have four days to surpass the next highest monthly total of 136,500 ounces from November 2012, which itself is the highest amount for a month since July 2010. American Gold Buffalos at 67,000 ounces are the strongest since hitting 70,500 in May 2010.
Sales of silver bullion coins were nonexistent this week as a result of the temporary sellout and suspension of 2013-dated American Silver Eagles on Jan. 17. Ordering is expected to resume in a limited capacity as early as Monday, Jan. 28. In similar news reflecting heightened demand, the Royal Canadian Mint is now rationing Silver Maple Leaf sales.
January sales of the Silver Eagles at just over 6 million are the third highest monthly total for the bullion coins that debuted in 1986.
The latest daily, weekly and year-to-date bullion coin sales follow.
American Eagle and Buffalo Bullion Coin Sales
Friday Sales
Last Week
Weekly Sales
2013 Sales
$50 American Eagle Gold Bullion Coins
0
23,500
3,000
107,000
$25 American Eagle Gold Bullion Coins
1,000
3,000
2,000
17,000
$10 American Eagle Gold Bullion Coins
0
6,000
2,000
24,000
$5 American Eagle Gold Bullion Coins
0
30,000
5,000
105,000
$50 American Buffalo Gold Bullion Coins
500
3,500
27,500
67,000
American Eagle Silver Coin*
0
1,225,000
0
6,007,000
The U.S. Mint recorded no sales this week for its five ounce silver bullion coins.
America the Beautiful 5 Oz. Silver Bullion Coin Sales
Last Week
All-Time Sales
2012 El Yunque National Forest 5 oz. Silver Bullion Coins
0
21,900
2012 Chaco Culture National Historical Park 5 oz. Silver Bullion Coins
0
20,000
2012 Acadia National Park 5 oz. Silver Bullion Coins
0
25,400
2012 Hawai'i Volcanoes 5 oz. Silver Bullion Coins
0
20,000
2012 Denali National Park 5 oz. Silver Bullion Coins
0
20,000
2011 Olympic National Park 5 oz. Silver Bullion Coins
4,000
95,600
2011 Vicksburg National Military Park 5 oz. Silver Bullion Coins
0
41,200
2011 Chickasaw Park 5 oz. Silver Bullion Coins
0
31,400
TOTAL
4,000
275,500
Coin sales figures shown above are in the number of coins sold. Calculate total ounces by using the bullion coin's weight.