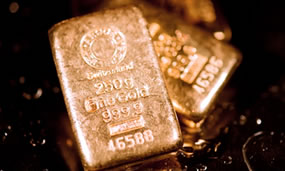 Gold futures settled lower on Friday, falling for the week and from a 13-month high, as the U.S. dollar rebounded and global stocks gained.
Gold for April delivery declined $13.40, or 1.1%, to close at $1,259.40 an ounce on the Comex division of the New York Mercantile Exchange.
The stock market's recent rally is the "most obvious headwind for gold, as day traders and fast money move in to skim as much off this dead cat bounce as they can," MarketWatch quoted Adam Koos, president of Libertas Wealth Management Group.
Gold futures posted a 0.9% weekly decline after rallying 4.1% last week. They are 18.8% higher on the year so far. On Thursday, they closed at their best price since Feb. 2, 2015.
In looking ahead to next week, Kitco News offers the following forecasts via their Wall Street vs. Main Street survey:
"This week, Kitco's online survey received 1,085 votes, of which 829, or 77%, were in the bullish camp for next week. The remaining 175 participants, or 16%, say they are bearish, while the other 81, or 7%, say they are neutral. Votes tallied for this survey start from Wednesday morning until Friday at 9:30 a.m. Eastern time.

Of the 34 analysts contacted, 11 responded, or which 7, or 64%, are bullish on gold. The remaining four votes were split with 18% calling for lower gold and the other 18% calling for sideways prices next week."
Elsewhere on Friday, silver for May delivery gained 5.6 cents, or 0.4%, to settle at $15.605 an ounce. Silver prices slipped 0.6% on the week after soaring 6.7% last week. They are $1.80, or 13.1%, higher than their final 2015 settlement of $13.80 an ounce.
In PGM futures on Friday and for the week:
April platinum declined $8, or 0.8%, to $969.70 an ounce, falling 1.7% from a week ago.

Palladium for June delivery rose $6, or 1.1%, to $579.95 an ounce, but gained 3% on the week.
For the year to date, platinum and palladium are up by 8.6% and 3.2%.
London Precious Metals Prices
London precious metals mixed it up on Friday and for the week. In comparing their levels from Thursday PM to Friday PM:
Gold declined $1.75, or 0.1%, to $1,264.75 an ounce.
Silver added 23 cents, or 1.5%, to $15.50 an ounce.
Platinum declined $5, or 0.5%, to $974 an ounce.
Palladium added $5, or 0.9%, to $576 an ounce.
For the week, gold fell 1% while the others registered gains of 0.5% for silver, 1.5% for platinum and 4.7% for palladium.
US Mint Bullion Sales in 2016
U.S. Mint weekly bullion totals were the same as last week.
Gold coins rose by 16,000 ounces, matching not only last week's total but also the sales splits of 14,000 ounces in American Gold Eagles and 2,000 ounces in American Gold Buffalo coins.
Silver coin sales moved up by 1 million ounces and like last week, American Silver Eagles accounted for the entire total. The U.S. Mint is rationing weekly sales of the coins because of silver planchet shortages. The final batch of this week's supply was ordered on Thursday. Silver Eagles are tracking a record pace with year to date sales of 12 million — 20.9% higher than through the same time in record year 2015.
Below is a sales breakdown of United States Mint bullion products with columns listing the number of bullion coins sold during varying periods of time.
US Mint Bullion Sales (# of coins)
Friday Sales
Last Week
This Week
Jan Sales
Feb Sales
Mar Sales
2016 Sales
$50 American Eagle 1 Oz Gold Coins
1,000
10,000
11,500
89,000
67,500
12,500
169,000
$25 American Eagle 1/2 Oz Gold Coins
1,000
0
1,000
23,000
6,000
1,000
30,000
$10 American Eagle 1/4 Oz Gold Coins
2,000
2,000
4,000
36,000
12,000
4,000
52,000
$5 American Eagle 1/10 Oz Gold Coins
0
35,000
10,000
145,000
100,000
20,000
265,000
$50 American Buffalo 1 Oz Gold Coins
0
2,000
2,000
34,000
19,000
2,000
55,000
$1 American Eagle 1 Oz Silver Coins
0
1,000,000
1,000,000
5,954,500
4,782,000
1,263,500
12,000,000
2016 Shawnee 5 Oz Silver Coins
0
0
0
N/A
105,000
0
105,000