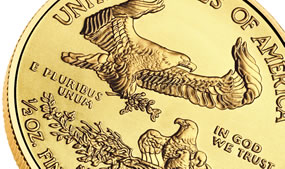 Gold, silver and platinum registered a third straight session of declines Tuesday. Palladium bucked the trends, rising for the first time since Thursday.
Gold for December delivery settled down $10.70, or 0.8%, to $1,316.30 an ounce on the Comex division of the New York Mercantile Exchange. Trading action occurred between intraday levels of $1,305.50 and $1,329.40. Speculation about when the Fed will taper remains in the news.
"As long as this backdrop remains, we can expect gold prices to remain volatile," Reuters quoted OCBC Investment Research's Lim Siyi, who tracks exchange-traded funds. "Most investors have a wait and see attitude right now because it is very hard to predict the upside, especially with all the speculative positions."
"It appears that the pendulum maybe swinging too far to the downside now as various Fed participants give their personal views," MarketWatch quoted Michael Haynes, chief executive officer at online precious-metals dealer APMEX Inc.

"We still may be several months away from tapering and even then, tapering is going to be modest," he said. "Overall, there is still a huge amount on the Fed balance sheet that no one really knows how the position is going to be relieved."
In rounding out precious metals futures on Tuesday:
Silver for December delivery declined 27.1 cents, or 1.2%, to $21.59 an ounce, ranging from $21.33 to $22.04.

October platinum turned down $7.10, or 0.5%, to $1,418.80 an ounce, trading between $1,416.10 and $1,433.

Palladium for December delivery gained $2.05, or 0.3%, to close at $720 an ounce. It ranged from $711.40 to $722.25.
London Fix Precious Metals
London fixings for gold, silver and platinum slid for a third day on Tuesday, although losses were more modest compared to the two prior days. In contrasting the Tuesday PM to Wednesday PM London fix prices:
Gold declined $8.75, or 0.7%, to $1,314.25 an ounce,
Silver lost 24 cents, or 1.1%, to $21.44 an ounce,
Platinum dipped $2, or 0.1%, to $1,422 an ounce, and
Palladium added $2, or 0.3%, to $713 an ounce
Palladium's gain was the first in three days.
U.S. Mint Bullion Sales in September
Broad U.S. Mint bullion product sales were notched on Monday but on Tuesday the one-half ounce American Gold Eagle was alone with its 2,000 advance.
In coin totals (not ounces) are the latest daily, September and year-to-date U.S. Mint bullion sales figures:
American Eagle and Buffalo Bullion Sales
Tuesday Sales
Last Week
Week-To-Date Sales
September Sales
YTD Sales
$50 American Gold Eagle Bullion Coins
0
3,000
2,000
8500
605,000
$25 American Gold Eagle Bullion Coins
2,000
1,000
3,000
5,000
53,000
$10 American Gold Eagle Bullion Coins
0
0
2,000
4,000
104,000
$5 American Gold Eagle Bullion Coins
0
0
0
10,000
465,000
$50 American Buffalo Gold Bullion Coins
0
1,000
3,500
9,000
199,000
White Mountain 5 oz. Silver Bullion Coins
0
0
0
3,800
35,000
Perry's Victory 5 oz. Silver Bullion Coins
0
0
0
1,400
25,000
Great Basin 5 oz. Silver Bullion Coins
0
0
0
3,000
25,000
Fort McHenry 5 oz. Silver Bullion Coins
0
0
0
14,700
25,000
American Silver Eagle Bullion Coins
0
675,000
656,500
2,506,500
35,581,500