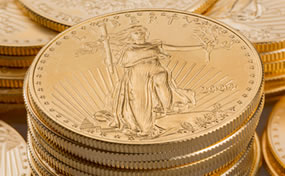 Gold, silver and other precious metals extended declines into a second session Monday, though losses were tame compared to poundings on Friday.
Gold for December delivery shed $5.50, or 0.4%, to finish at $1,327 an ounce on the Comex division of the New York Mercantile Exchange. The yellow metal traded from an intraday low of $1,313.40 to a high of $1,332.00.
"After last week's move a lot of people are confused on how the market is going and are trying to avoid big positioning ahead of next week's non-farm payrolls," MKS SA head of trading Afshin Nabavi said according to Reuters News.

"Unless there is some mega change in the U.S. labor market, I don't think we will have any QE slowdown this year and that should grant some support to gold."
Gold fell 2.7% on Friday but still climbed 1.8% on the week.
In other precious metals and their start to the new trading week Monday:
Silver for December delivery dipped 7 cents, or 0.3%, to $21.86 an ounce, ranging from $21.30 to $21.97. The precious metal plunged 5.9% on Friday yet gained 1% for the week.

October platinum retreated $6.70, or 0.5%, to $1,425.90 an ounce, trading between $1,420 and $1,437. Platinum dropped 2.7% in the prior session and was alone last week with its 0.8% decline.

Palladium for December delivery lost $4, or 0.6%, to $717.95 an ounce, ranging from $707.65 to $722.85. Prices fell 2.2% on Friday but jumped 3.3% on the week.
London Fix Precious Metals
London bullion fixings sank for a second business day. In contrasting their Monday PM to Tuesday PM London fix prices:
Gold fell $26.25, or 1.9%, to $1,323 an ounce,
Silver dived $1.06, or 4.7%, to $21.68 an ounce,
Platinum declined $23, or 1.6%, to $1,424 an ounce, and
Palladium dropped $15, or 2.1%, to $711 an ounce
Prices advanced last week for the metals with increases of 2.3% for gold, 4.7% for silver, 0.4% for platinum and 3.7% for palladium.
U.S. Mint Bullion Sales in September
U.S. Mint sales bounced higher for gold and silver bullion products. Silver coins, all in Silver Eagle sales, advanced 656,500. Gold coin sales totaled 6,500 ounces with splits of 3,000 ounces in Gold Eagles and 3,500 ounces in Gold Buffalo coins. The overall gold gains mark an increase of 2,000 ounces over last week's tepid total.
In coin totals (not ounces) are the latest daily, September and year-to-date U.S. Mint bullion sales figures:
American Eagle and Buffalo Bullion Sales
Monday / Week-To-Date Sales
Last Week
September Sales
YTD Sales
$50 American Gold Eagle Bullion Coins
2,000
3,000
8500
605,000
$25 American Gold Eagle Bullion Coins
1,000
1,000
3,000
51,000
$10 American Gold Eagle Bullion Coins
2,000
0
4,000
104,000
$5 American Gold Eagle Bullion Coins
0
0
10,000
465,000
$50 American Buffalo Gold Bullion Coins
3,500
1,000
9,000
199,000
White Mountain 5 oz. Silver Bullion Coins
0
0
3,800
35,000
Perry's Victory 5 oz. Silver Bullion Coins
0
0
1,400
25,000
Great Basin 5 oz. Silver Bullion Coins
0
0
3,000
25,000
Fort McHenry 5 oz. Silver Bullion Coins
0
0
14,700
25,000
American Silver Eagle Bullion Coins
656,500
675,000
2,506,500
35,581,500