United States Mint bullion sales in August slumped to the slowest pace in more than six years for gold coins and pulled back from a sprint to a fast jog for silver coins.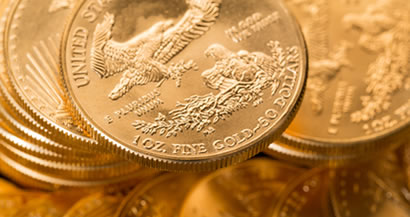 These changing levels occurred in a month that tends to be seasonally slower for bullion coins but also while silver prices soared by almost 20% and gold prices surged by more than 6%.
2013 American Eagle Silver Bullion Coins
Sales of American Eagle silver coins hit 3,625,000 last month, the second best August and the 12th strongest month in the 321 that have passed since the series debuted in October 1986. The level was down 17.7% from July's 4,406,500 but it was also 26.3% higher than the 2,870,000 logged during the same time last year.
For the January through August period, American Silver Eagles scored sales of 33,075,000, a mark that has only been reached in three other years. The 99.9% pure silver coins are on track for a nearly 50 million sales year. The annual sales record happened in 2011 at 39,868,500. Then, it took until October 1, 2011 for sales to reach where they are now. Last year, it took until December 10, 2012.
2013 American Eagle Gold Bullion Coins
22-karat American Eagle gold coins limped in at 11,500 ounces, plunging 77.2% from July's pace of 50,500 ounces and 70.5% from the year-ago tally of 39,000 ounces. Telling, last month's total is the weakest since July 2007.
U.S. Mint distributors did order every American Gold Eagle size, but totals for each were down and especially for the most popular one-ounce $50 Gold Eagle. It went from 43,000 in July to just 9,000 in August. Monthly increases for the one-half ounce ($25), one-quarter ounce ($10) and one-tenth ounce ($5) sizes were either the slowest of the year or tied for the slowest.
Despite the poorest showing in more than six years, year-to-date sales at 691,000 ounces still ranks 7th highest since the series debuted in 1986. Better years through the same time include:
1987 at 808,000 ounces,
1998 at 942,000 ounces,
1999 at 1,595,000 ounces,
2009 at 838,500 ounces,
2010 at 866,500 ounces, and
2011 at 752,500 ounces
American Buffalo Gold Bullion Coins
August sales of American Buffalo gold coins ended at 10,000, down 45.9% from the prior month yet 11.1% higher than a year ago.
Orders for the 24-karat gold coins reached 190,000 through the first eight months of this year. The level is 58,000 more than the 132,000 coins sold by the Mint in 2012.
Reverse Proof American Buffalo Gold Coins
Overall and when considering its numismatic products, the United States Mint actually sold nearly similar amounts of gold coins in August as in July. While not a bullion coin, the Mint last month released a special 2013 Reverse Proof American Buffalo gold coin for collectors. It features the same specifications as the bullion version but sports a unique reverse proof finish that celebrates the 100th anniversary of the designs found on all American Buffalo gold coins. August sales of this special-edition coin reached 40,804.
2013 America the Beautiful Five Ounce Silver Bullion Coins
America the Beautiful silver bullion sales reached 19,000 coins last month, up 2,000 from the previous month. Sales pushed higher in the last week with the release on the 26th of the fourth 2013-dated ATB coin depicting Fort McHenry.
Sales of all four 2013 America the Beautiful Five Ounce Silver Bullion Coins by the month and year so far are:
2013 Fort McHenry America the Beautiful Silver Bullion Coins launched on August 26 and ended the month at 10,300.
2013 Great Basin America the Beautiful Silver Bullion Coins climbed 4,600 for a new total of 22,000
2013 Perry's Victory America the Beautiful Silver Bullion Coins gained 2,800 in August, bringing its total to 23,600.
2013 White Mountain America the Beautiful Silver Bullion Coins added 1,300 in the month for a new total of 31,200.
This year's last five ounce release is scheduled for a November launch. Its design honors Mount Rushmore National Memorial in South Dakota.
For the January through August period, ATB five ounce sales total 150,200 coins, or 751,000 ounces. That is well over the 118,100 coins, or 590,500 ounces, sold during all of 2012.
2013 Sales of U.S. Mint Bullion Coins
In the following table is a listing of United States Mint bullion sales by product type, month and year-to-date. Sales totals are in the number of bullion coins sold, not in the amount of ounces.
Monthly and YTD Sales US Mint Bullion Coins
(# of coins)
Jan 2013
Feb 2013
Mar 2013
Apr 2013
May 2013
Jun 2013
Jul 2013
Aug 2013
YTD Sales
American Eagle Gold (1 oz)
124,500
68,000
54,000
187,500
61,500
49,000
43,000
9,000
596,500
American Eagle Gold (1/2 oz)
17,000
5,000
4,000
14,000
2,000
1,000
4,000
1,000
48,000
American Eagle Gold (1/4 oz)
24,000
12,000
10,000
26,000
6,000
8,000
8,000
6,000
100,000
American Eagle Gold (1/10 oz)
110,000
70,000
35,000
85,000
60,000
55,000
35,000
5,000
455,000
American Buffalo Gold (1 oz)
72,500
11,500
11,000
37,000
12,500
17,000
18,500
10,000
190,000
ATB Silver Coins (5 oz)
28,960
14,340
19,800
0
25,800
25,300
17,000
19,000
150,200
American Silver Eagle (1 oz)
7.498M
3.3685M
3.3565M
4.087M
3.4585M
3.275M
4.4065M
3.625M
33.075M
Sales above are aggregated from data published by the U.S. Mint on its website found here.