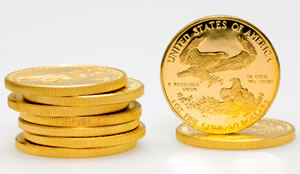 Even as gold and silver marked double-digit declines through the first half of 2013, demand soared for United States Mint bullion coins.
Compared to the first six months in 2012, sales this year of American Eagle gold bullion coins almost doubled. More pointed, the mid-year total ranks fifth highest in the Gold Eagle's 26-year history. American Eagle silver bullion coins are trouncing last year's totals, on track for a record year.
As for June itself, both series of coins logged strong sales even though summer months tend to be historically slower for bullion.
2013 American Eagle Silver Bullion Coin Sales
June sales of American Eagle silver coins reached 3,275,000. It was the weakest monthly total this year, but in perspective, only one month last year scored higher. Introduced and released annually since 1986, there is just a single June month that performed better, June 2011 when sales totaled 3,402,000. Last month ranks 17th all-time, an exceptional feat given 319 months have passed since the series debuted.
Sales through the first half of 2013 hit 25,043,500. This year is standing atop all others. The annual sales record for the 99.9% pure silver coins happened in 2011 at 39,868,500. Then, it took until July 29, 2011 for sales to surpass 25 million coins. Last year the level was not reached until September 20, 2012.
As a side note, unprecedented demand has trimmed supply of the bullion coins. Since mid-January, the U.S. Mint has allocated or rationed how many Silver Eagles it sales to its distributors.
2013 American Eagle Gold Bullion Coin Sales
American Eagle gold coins combined to 57,000 ounces in June, falling 18.6% from the prior month's total of 70,000 ounces and down 5% from the year ago level of 60,000 ounces.
Yet, the 22-karat American Gold Eagles at their mid-year total of 629,000 ounces notched an 83.1% increase from the 343,500 ounces sold in the first half of last year. And just four other years started quicker since the series debuted in 1986. They include:
1987 at 723,000 ounces,
1999 at 1,243,000 ounces,
2009 at 670,500 ounces, and
2010 at 673,000 ounces
American Buffalo Gold Bullion Coin Sales
24-karat American Buffalo gold coins at 17,000 ounces in June easily topped the 12,500 ounces sold in May and the 10,000 ounces moved in June of last year.
Sales through the first half of 2013 reached 161,500 for the quickest six-month start in the 8-year old series. Mid year sales last year were 75,000.
2013 America the Beautiful Five Ounce Silver Bullion Coin Sales
June sales from the Mint's America the Beautiful five ounce bullion program accumulated to 25,300 coins, just missing the 25,800 coins sold in the prior month.
May enjoyed strong pent-up demand as the inventory of past annual issues sold out on March 1 and new coins featuring White Mountain National Forest in New Hampshire did not appear until the 13th. June saw the addition of another two coins from the series. Those depicting Perry's Victory and International Peace Memorial of Ohio launched on June 3, 2103 and those emblematic of Great Basin National Park in Nevada debuted on June 24, 2013. A sales breakdown follows for the 2013 ATB Five Ounce Silver Bullion Coins by design:
2013 White Mountain America the Beautiful Silver Bullion Coins advanced 1,200 in June for a new total of 27,000
2013 Perry's Victory America the Beautiful Silver Bullion Coins were released and registered a June total of 14,200
2013 Great Basin America the Beautiful Silver Bullion Coins were released and logged a June total of 9,900
Upcoming ATB silver bullion coins include those for the Fort McHenry Site in Maryland (August 2013) and the ones for Mount Rushmore National Memorial Site in South Dakota (November 2013).
Sales through the first half of 2013 for the five ounce series totaled to 114,200 coins, or 571,000 ounces. The January through June period in 2013 reached only 21,500 coins, or 107,500 ounces, which is less than last month's total.
Sales Across All U.S. Mint Bullion Products
Below is a breakdown of the latest U.S. Mint bullion coin sales by product type, month and year-to-date. For comparative purposes, added are monthly sales totals from a year ago. All sales are in the number of bullion coins sold, not in the amount of ounces.
Monthly and YTD Sales US Mint Bullion Coins
(# of coins)
January 2013
February 2013
March 2013
April 2013
May 2013
June 2013
YTD Sales
American Eagle Gold (1 oz)
124,500
68,000
54,000
187,500
61,500
49,000
544,500
American Eagle Gold (1/2 oz)
17,000
5,000
4,000
14,000
2,000
1,000
43,000
American Eagle Gold (1/4 oz)
24,000
12,000
10,000
26,000
6,000
8,000
86,000
American Eagle Gold (1/10 oz)
110,000
70,000
35,000
85,000
60,000
55,000
415,000
American Buffalo Gold (1 oz)
72,500
11,500
11,000
37,000
12,500
17,000
161,500
ATB Silver Coins (5 oz)
28,960
14,340
19,800
0
25,800
25,300
114,200
American Silver Eagle
7.498M
3.3685M
3.3565M
4.087M
3.4585M
3.275M
25.0435M
Sales figures above originate from data published by the United States Mint on its webpage found here.