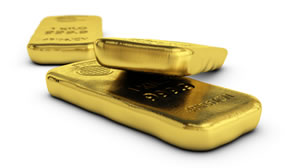 Gold prices dropped toward a three-week low Tuesday despite factors that have supported gains in the past, including weakness in the U.S. dollar and falling equities.
Gold for August delivery lost $9.00, or 0.7%, to end at $1,377.00 an ounce on the Comex in New York. The settlement price was the lowest since May 22.
"We saw emerging markets sharply lower and a basket of commodities lower as well: copper, lead, zinc, etc. So bad day all around for commodities and gold is trapped in the middle, even on a risk-off day, which would normally be better for gold," MarketWatch quoted Jeffrey D. Wright, senior research analyst at Global Hunter Securities.
Gold touched an intraday low of $1,364.50 and hit a high of $1,387.20. The precious metal inched 0.2% higher on Monday.
Silver for July delivery fell 27.9 cents, or 1.3%, to close at $21.65 an ounce. It ranged from $21.40 to $22.96. Silver gained 0.8% in the previous session.
In other precious metals futures:
July platinum declined $27.00, or 1.8%, to $1,479.90 an ounce, trading between $1,475.40 and $1,511.10.

Palladium for September delivery dropped $16.90, or 2.2%, to $752.50 an ounce, ranging from $750.00 to $772.15.
London Fix Precious Metals
In London, palladium was fixed higher while other major precious metals moved lower. In comparing the Monday PM to Tuesday PM London Fix prices:
Gold declined $9.00, or 0.7%, to $1,374.25 an ounce,
Silver shed 23.0 cents, or 1.1%, to $21.58 an ounce,
Platinum lost $11.00, or 0.7%, to $1,487.00 an ounce, and
Palladium advanced $3.00, or 0.4%, to $762.00 an ounce
US Bullion Coin Sales in June
Though gold coins were kept in check, sales of U.S. Mint silver bullion coins advanced by a total of 191,500 ounces. Splits were:
167,500 of the one-ounce Silver Eagles;
3,600 of the five-ounce Perry's Victory silver coins; and
1,200 of the five-ounce White Mountain silver coins
The following are daily, June and year-to-date bullion coin totals as provided by the United States Mint.
American Eagle and Buffalo Bullion Coin Sales
Tuesday Sales
Last Week
Week-To-Date
June Sales
YTD Sales
$50 American Eagle Gold Bullion Coins
0
14,000
3,500
17,500
513,000
$25 American Eagle Gold Bullion Coins
0
0
0
0
42,000
$10 American Eagle Gold Bullion Coins
0
0
0
0
78,000
$5 American Eagle Gold Bullion Coins
0
30,000
15,000
45,000
405,000
$50 American Buffalo Gold Bullion Coins
0
4,500
2,500
7,000
151,500
White Mountain 5 oz. Silver Bullion Coins
1,200
0
1,200
1,200
27,000
Perry's Victory 5 oz. Silver Bullion Coins
3,600
8,000
5,900
13,900
13,900
American Silver Eagle Bullion Coins
167,500
782,000
846,000
1,628,000
23,396,500
Figures above are in the number of coins sold, not in ounces.