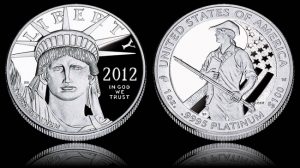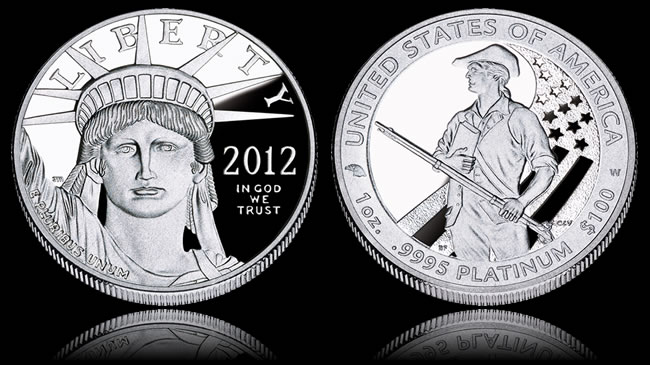 Recent and sharp declines in precious metals will trigger pricing cuts Wednesday, April 17, for several platinum and gold coins sold by the United States Mint.
Wednesday is also decision day for tagging prices to the 2013-W Proof American Gold Eagles. This year's proof Gold Eagles make their sales debut on Thursday, April 18.
Typically and when needed due to swings in precious metals, the U.S. Mint each Wednesday adjusts platinum and gold coin prices near 12:00 noon ET.
Below is a table of the most likely pricing changes for current coins and the likely opening coin prices for the 2013-W Proof Gold Eagles.
Update: The U.S. Mint on Wednesday adjusted its pricing as expected. New levels are shown in "Coin Prices" column below.
Products
Current Coin Prices
Coin Prices
2013 Proof 5-Star Generals $5 Gold Coins
$485.50
$461.20
2013 Uncirculated 5-Star Generals $5 Gold Coins
$480.50
$456.20
2013 5-Star Generals Three-Coin Proof Sets
$546.50
$522.20
2012 Proof First Spouse Gold Coins
$990.00
$940.00
2012 Uncirculated First Spouse Gold Coins
$970.00
$920.00
2012-W Proof Platinum Eagle
$1,900.00
$1,850.00
2013-W Proof Gold Eagles (1 oz)
N/A
$1,810.00
2013-W Proof Gold Eagles (1/2 oz)
$920.00
2013-W Proof Gold Eagles (1/4 oz)
$472.50
2013-W Proof Gold Eagles (1/10 oz)
$200.00
2013-W Proof Gold Eagle Four-Coin Set
$3,352.50
Deciding Factors
U.S. Mint prices for numismatic platinum and gold products is determined weekly based on averaging London precious metals fixings from the previous Thursday AM to current Wednesday AM. The Wednesday PM fixing is also used as a directional component.
Coin prices were last adjusted based on weekly averages for gold of between $1,550.00 and $1,599.99 an ounce and for platinum from $1,500.00 to $1,549.99 an ounce. While this Wednesday's AM fixings must be added into the mix, currently both precious metals are comfortably falling to within a new range of between $1,450.00 and $1,499.99 an ounce. If this range sticks, prices for gold coins will drop by two tier levels and the platinum coin by one.
In other coin new, the U.S. Mint on Monday suspended three silver products as a result of tumbling silver prices.