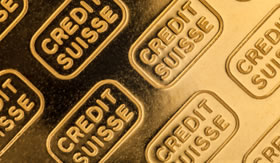 Gold retreated 0.2% Monday, down for the fourth time in five sessions and on the heels of rallying 1.5% on Friday.
Gold for June delivery dipped $3.40 to finish at $1,572.50 an ounce on the Comex in New York. The precious metal traded from an intraday low of $1,566.60 to a high of $1,582.90. Gold shot up $23.50 on Friday but still ended 1.2% lower last week.
Gold's Monday losses were mostly attributed to a stronger US dollar.
"The strength in the dollar is working against gold," Michael Smith, the president of T&K Futures & Options in Port St. Lucie, Florida, said in a telephone interview according to Bloomberg.
Some investors are also said to be waiting on the sidelines, looking for directional signals.
"We are going to hold here until that next catalyst comes. On the upside, the funds appear done liquidating, and gold should move its way back up once the liquidation is done," Reuters quoted Phillip Streible, senior commodities broker at futures brokerage RJ O'Brien.
In other New York precious metals futures:
Falling in eight of the last nine sessions, silver for May delivery gave back 8.2 cents, or 0.3%, to end at $27.14 an ounce. Prices traded from $27.070 to $27.465. On Friday, silver rallied 45.3 cents or 1.7%. It fell 3.9% last week.

July platinum inched up $1.50, or 0.1%, to $1,537.00 an ounce, ranging from $1,530.50 to $1,544.80. Platinum advanced 17.70, or 1.2%, on Friday. Last week the PGM declined 2.5%.

Palladium for June delivery gained $5.90, or 0.8%, to $729.80 an ounce, trading between $721.30 and $739.20. Palladium was the single precious metal lower Friday, off $1.55 or 0.2%. It plunged 5.8% last week.
Bullion Prices in London
Precious metals in London marked daily gains ranging from a modest 0.1% for platinum to a larger 1.5% for sister metal palladium. In contrasting the Friday PM to Monday PM London fixings:
Gold edged up $7.00, or 0.4%, to $1,575.00 an ounce,
Silver advanced 30.0 cents, or 1.1%, to $27.27 an ounce,
Platinum added $1.00 to $1,532.00 an ounce, and
Palladium surged $10.50 to $730.50 an ounce
Last week the precious metals registered losses of 1.9% for gold, 5.8% for silver, 2.9% for platinum and 6.5% for palladium.
US Bullion Coin Sales in April
United States Mint bullion coin sales surged to start the week. Mint distributors ordered a total of 23,500 ounces of gold coins, which is just 500 ounces shy of last week's five-day total. Sales of 833,000 Silver Eagles on the day have already topped last week's total of 812,000.
The table below offers daily, April and year-to-date bullion coin sales totals as reported by the United States Mint.
American Eagle and Buffalo Bullion Coin Sales
Monday Sales
Last Week
April Sales
YTD Sales
$50 American Eagle Gold Bullion Coins
19,000
19,000
38,000
284,500
$25 American Eagle Gold Bullion Coins
3,000
1,000
4,000
30,000
$10 American Eagle Gold Bullion Coins
2,000
2,000
4,000
50,000
$5 American Eagle Gold Bullion Coins
5,000
20,000
25,000
240,000
$50 American Buffalo Gold Bullion Coins
2,000
2,000
4,000
99,000
American Silver Eagle Bullion Coins
833,000
812,000
1,645,000
15,868,000
All bullion figures above are in the number of coins sold. Calculate total ounces by using the bullion coin's weight.