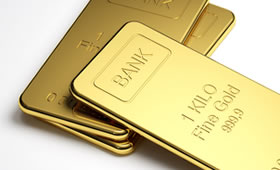 Gold eased Friday yet prices still advanced 0.9% for the week as safe-haven buying powered gains in earlier sessions.
Gold has notched three straight weekly increases, but other precious metals have fallen for two with the latest weekly losses at 0.5% for silver, 0.7% for platinum and 1.8% for palladium.
Falling from a three-week high, gold for April delivery declined Friday by $7.70, or 0.5%, to settle at $1,606.10 an ounce on the Comex in New York. Gold was pressured on the day, opined analysts, as optimism emerged that Cyprus would cut a deal to free up EU bailout money.
Friday's "rebound in the euro, which has weighed on gold, is suggestive of some expectation that Cyprus and the troika will cobble together a plan B before Monday's deadline," MarketWatch quoted Peter Grant, chief market analyst at USAGold. "However, deal or no deal, Cyprus — like some of the other Southern European countries — doesn't have an easy road ahead."
Many market-watchers expect that news relating to Cyprus will continue to impact gold prices next week, and for the better.
"In the Kitco News Gold Survey, out of 33 participants, 28 responded this week. Of those 28 participants, 22 see prices up, while four see prices down, and two are neutral," reports Kitco News.

"For those participants who see higher prices next week, nearly all of them cited the situation in Cyprus and whether or not European officials will agree to bail out the near-bankrupt country…

"The two participants who are neutral on gold said there are too many unknowns about the Cyprus situation to give an accurate read on where prices might go next week…"
In Bloomberg's weekly survey found within an article entitled Gold Seen Extending Rebound as Cyprus Revives Bulls, 16 participants were noted as bullish with 7 bearish and 2 neutral.
Despite three weekly gains, gold is still off $69.70, or 4.2%, for the year.
Silver, Platinum and Palladium Futures
Silver followed gold most of the week while platinum and palladium moved opposite. Friday was no different:
Silver for May delivery declined 51.4 cents, or 1.8%, to settle at $28.698 an ounce.

April platinum gained $1.60, or 0.1%, to end at $1,581.70 an ounce.

Palladium for June delivery advanced $4.70, or 0.6%, to close at $761.55 an ounce.
For the year-to-date, silver has dropped 5.1% but platinum has gained 2.5% and palladium has soared 8.3%.
London Bullion Prices
Precious metals in London split Friday with all but silver lower. When comparing the Thursday PM to Friday PM London fixings:
Gold shed $6.00, or 0.4%, to $1,607.75 an ounce,
Silver gained 15.0 cents, or 0.5%, to $29.06 an ounce,
Platinum dipped $3.00, or 0.2%, to $1,580.00 an ounce, and
Palladium ended down $7.00, or 0.9%, to $754.00 an ounce
For the week, silver climbed 0.5% and gold added 0.8% while platinum fell 0.8% and palladium plunged 2.6%.
US Bullion Coin Sales in March
U.S. Mint bullion sales were mixed this week with gold coins up 38.1% from a week ago and silver coins down 10.8% over the same time. In weekly sales breakdowns:
Gold bullion coins combined to 14,500 ounces compared to last week's total of 10,500 ounces. Splits were 11,000 ounces in 22-karat American Gold Eagles and 3,500 ounces in 24-karat American Gold Buffalos.

American Eagle silver bullion coins tallied to 726,500 ounces versus the prior week's 814,500 ounces. The bullion coins topped 13 million for the year on Monday, the first time the milestone has been reached by March going back to the series launch in 1986.
Excluding the first day of this month, there has not been any movement for America the Beautiful Five Ounce Silver Bullion Coins. Availability is part of the reason. Only older 2011-dated coins remain. Those from last year sold out and none of the 2013-dated coins have been released.
Current sales for each of the U.S. Mint's bullion products follow.
American Eagle and Buffalo Bullion Coin Sales
Friday Sales
Last Week
Weekly Sales
March Sales
YTD Sales
$50 American Eagle Gold Coins
500
7,500
11,00
40,500
233,000
$25 American Eagle Gold Coins
0
1,000
0
3,000
25,000
$10 American Eagle Gold Coins
0
2,000
0
6,000
42,000
$5 American Eagle Gold Coins
0
10,000
0
20,000
200,000
$50 American Buffalo Gold Coins
1,000
1,000
3,500
10,000
94,000
American Silver Eagle Coins
0
814,500
726,500
2,438,000
13,304,500
America the Beautiful 5 Oz. Silver Bullion Coin Sales
Friday Sales
Last Week
Weekly Sales
March Sales
All-Time Sales
2012 El Yunque National Forest 5 oz. Silver Bullion Coins
Sold Out
0
24,000
2012 Chaco Culture National Historical Park 5 oz. Silver Bullion Coins
600
24,400
2012 Acadia National Park 5 oz. Silver Bullion Coins
0
25,400
2012 Hawai'i Volcanoes 5 oz. Silver Bullion Coins
0
20,000
2012 Denali National Park 5 oz. Silver Bullion Coins
0
20,000
2011 Olympic National Park 5 oz. Silver Bullion Coins
0
0
0
0
104,900
2011 Vicksburg National Military Park 5 oz. Silver Bullion Coins
0
0
0
10,400
58,100
2011 Chickasaw Park 5 oz. Silver Bullion Coins
0
0
0
8,800
48,700
TOTAL
0
0
0
19,800
325,500
All bullion figures above are in the number of coins sold. Calculate total ounces by using the bullion coin's weight.