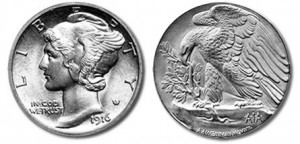 A study commissioned by the United States Mint casts doubt on the viability of American palladium coins, indicating limited appeal for investor and collector versions.
"The potential pool of buyers of palladium bullion and numismatic coins is small and there is little interest in the market for palladium in coin form," the study states.
The palladium market study was completed by CPM Group LLC, a New York City-based company that describes itself as a commodities research, financial advisory, consulting and commodities management firm. The study was mandated by the American Eagle Palladium Bullion Coin Act of 2010, Public Law 111-303.
In CPM Group's summary conclusions, it notes two key points:
It is unlikely that there will be sufficient demand for a U.S. Mint palladium bullion coin and such a program would most likely not be possible to undertake profitably.

It is unlikely that there will be sufficient demand for a U.S. Mint palladium numismatic (proof or uncirculated) coin, but such a program could be undertaken profitably.
CPM Group analysts forecast a sales potential of 100,000 ounces of palladium bullion coins in the first year, meaning they would debut as the U.S. Mint's weakest bullion program. By the second year, they believe demand levels would drop to support 20,000 ounces, by year three to 10,800 ounces and by the tenth year to 3,000 ounces.
As for the potential of collector proof and uncirculated Palladium Eagles, the study forecasts sales of 50,000 ounces to start, and predicts a third year annual pace of 15,000 ounces. That is below current sales of the 2012 First Spouse Gold Coins — an interesting comparison since the price of a collector one-ounce Palladium Eagle would be near a one-half ounce spousal gold coin.
The act calls for an American Eagle palladium obverse to feature a "high-relief likeness" of Adolph A. Weinman's highly regarded "Winged Liberty" design. This design first appeared on Mercury dimes from 1916-1945. The "Walking Liberty" design by Weinman is currently showcased on obverses of the popular American Eagle silver coin. Palladium Eagle reverses would depict a high-relief of Weinman's design found on the reverse of the 1907 American Institute of Architects gold medal.
Obviously for coin collectors and even for some bullion coin investors, a coin's design is a make or break deal. CPM Group was not tasked to look at this aspect in forecasting palladium coin demand. Adolph A. Weinman was not mentioned in the study, nor was any specific aspect of the coin's design.
The following table outlines projections from CPM Group researchers for Palladium Eagle sales:
10-Year Demand Forecast for American Eagle Palladium Coins
Year
1
Year
2
Year
3
Year
4
Year
5
Year
6
Year
7
Year
8
Year
9
Year
10
Bullion
100,000
20,000
10,800
5,000
4,000
3,000
3,500
3,000
3,000
3,000
Proof
33,333
13,333
10,000
4,000
4,000
2,000
1,600
1,500
1,000
1,000
Uncirculated
16,667
6,667
5,000
2,000
2,000
1,000
800
750
500
500
Total
150,000
40,000
25,800
11,000
10,000
6,000
5,900
5,250
4,500
4,500
In support of its conclusion on limited demand for a palladium bullion coin, CPM Group researchers cite the performance of the palladium Canadian Maple Leaf bullion coin, sourcing Royal Canadian Mint sales and mintages for the .9995 fine palladium coin as:
2005 – 2010 Canadian Maple Leaf Palladium Coin Sales & Mintages
| Year | Mintage | Sales | Average Price of Palladium | Annual Average Price Change |
| --- | --- | --- | --- | --- |
| 2005 | 62,919 | 62,919 | $201.37 | -12.5% |
| 2006 | 68,707 | 68,707 | $320.27 | 58.7% |
| 2007 | 25,109 | 15,415 | $354.86 | 10.8% |
| 2008 | 0 | 9,694 | $351.51 | -1.5% |
| 2009 | 65,000 | 40,000 | $263.27 | -24.4% |
| 2010 | 0 | 25,000 | $525.51 | 98.4% |
| 2011 | 0 | 0 | $733.30 | 38.7% |
In total, Canadian palladium bullion sales from 2005 to 2010 reached 221,735. CPM Group researchers do not expect that the U.S. Mint could match the amount even in ten years time, placing the sales potential of an American palladium bullion coin at 155,300 in a decade. The report points out that:
"The market currently is overly supplied, with ample supplies of Canadian Maple Leaf palladium coins available for sale in the secondary market by investors, and little buying interest. The Royal Canadian Mint suspended its palladium bullion coin program due to the lack of demand for the product after 2009, has not made any new palladium coins since 2009, and has no current plans to re-launch the program in the future."
Currently, the U.S. Mint has four bullion coin programs with sales levels that are envied by mints from around the world. Most recently, the U.S. Mint registered 2012 annual sales of:
33,742,500 ounces of 99.9% fine American Eagle silver bullion coins,
753,000 ounces of 22-karat American Eagle gold bullion coins,
132,000 ounces of 24-karat American Buffalo gold bullion coins, and
569,000 ounces of 99.9% fine America the Beautiful Five Ounce Silver Bullion Coins (the last of the Mint's inventory of 2012-dated coins sold out on March 1, 2013)
As bullion products, these coins are available at a few percentage points above the current spot of the precious metal they contain. For reference, last year precious metals averages in London were $31.15 an ounce for silver; $643.53 an ounce for palladium and $1,668.98 an ounce for gold.
Comparing secondary market sales of a no longer produced Canadian palladium product with still available American bullion products of differing gold and silver content would seem like comparing apples to oranges, but it offers some insights.
A search of closed auctions on eBay.com for February shows 38 listings with Canadian Maple Leaf palladium coins. Of those, there was an average of 3.4 bids per listing and a sell-through rate of 63.2%. In a comparison and for the U.S. Mint's weakest bullion product by sales, the American Buffalo gold bullion coin, there were 19 listings with an average of 4.6 bids per and a sell-through rate of 36.8%. Using the same criteria and searching for the Mint's most successful bullion product, the American Eagle silver bullion coin, there were 2,457 listings with an average of 9.2 bids per listing and a sell-through rate of 88.3%. Keywords used for each eBay closed auctions were "Canadian maple leaf palladium," "American Buffalo gold bullion coin" and "American Eagle silver bullion coin."
At least one market slice of data, however mismatched and small, shows more interest in the palladium Canadian Maple Leaf than the American Gold Buffalo. If that is indeed the case, the bullion Palladium Eagle coin sales projections would seem conservative. American palladium bullion coin forecasts combined through the first three-years, the most aggressive through the ten years, totals 130,800 coins. That three-year total is below 2012 annual sales of 132,000 for the American Gold Buffalo, which is in its seventh year of issue.
Though pointing to the lack of extended success for Palladium Maple Leafs, which logically had initial barriers to a larger sales market in the U.S., CPM Group analysts expect that sales of an American palladium coin would stay mostly within the U.S.
"The potential pool of buyers of U.S. Mint palladium bullion and proof coins would likely be similar to that of platinum bullion and proof coins, with some deviation. Buyers of bullion coins are regarded as investors, who buy the coin for the metal's value. Buyers of proof coins are regarded as collectors, who buy the coin to add to their collection for its rarity of mintage and its superior quality to the bullion coin. Both target markets are expected to mostly be contained within the United States, as much of the interest in platinum coins produced by the U.S. Mint historically has come from local sources. This likely would be the case for palladium."
As for the bottom line and highlighted early by CPM Group's report, proof and uncirculated American Eagle palladium coins could turn a profit even with weak demand. But the study notes:
"Pursuing such a program alone, rather than in conjunction with a bullion program, may not be in line with the U.S. Mint's usual approach to precious metals coin programs. Pursuing a numismatic program without a bullion coin program additionally may not be in the purview of Public Law 111-303, which directs the U.S. Mint to focus on 'the production of palladium bullion coins to provide affordable opportunities for investments in precious metals, and for other purposes."
The American Eagle Palladium Bullion Coin Act of 2010 mandates that the Treasury Secretary produce and sell one-ounce, .9995 pure palladium bullion coins within one year after submitting the study to Congress, while also giving the Secretary the authority to strike collector proof and uncirculated versions. The report was delivered to the Senate Banking Committee and the House Committee on Financial Services on March 1, 2013.
While the act stipulated the study to ensure that Palladium Eagles could be minted and issued at no net cost to taxpayers, it does not include provisions should that study tag the Eagles as unprofitable.
In inquiring about the U.S. Mint's direction going forward, CoinNews.net received the following brief response from Tom Jurkowsky, director of the U.S. Mint's Office of Public Affairs:
"It's premature to discuss our long term plans for palladium. At this point, the report speaks for itself."
The American Eagle Palladium Bullion Coin Act of 2010 passed by Unanimous Consent in the U.S. House of Representatives on Sept. 29, 2010 and in the U.S. Senate on Nov. 30, 2010. President Obama signed the act into Public Law 111-303 on Dec. 14, 2010.