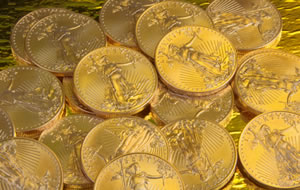 Most precious metals posted gains Friday but they all took a pounding this week, led by a 6.5% loss in silver. Other weekly declines were 2.2% for gold, 2.8% for palladium and 4.8% for platinum.
On Friday, gold for February delivery climbed $14.20, or 0.9%, to settle at $1,660.10 an ounce on the Comex in New York. The precious metal on Tuesday suffered its biggest one-day loss since Nov. 2, down $27.50, and then fell another $21.80 on Thursday to close at a four-month low.
Gold's streak of weekly declines rose to four. It is down 3.1% for the month, yet up 6.0% for the year.
"A lot of traders have been booking profit and, of course, as the market had moved lower, other people who didn't liquidate have come in to preserve what profit they had left. At this price, we'll be up maybe 5% for the year, if that much," MarketWatch quoted Frank Lesh, broker and futures analyst with FuturePath Trading in Chicago.

"We do have some bargain hunters coming in [Friday] on small-scale volume. We also have some short positions that are being covered," said Lesh.
More participants in weekly gold surveys checked the box for higher prices next week.
"In the Kitco News Gold Survey, out of 33 participants, 19 responded this week. Of those 19 participants, 12 see prices up, while 3 see prices down, and 4 are neutral or see prices moving sideways," reports Kitco News.

"Most of those who see higher prices said they expect gold has found some minor support level at Thursday's low… Plus, many said that they are looking ahead into next year already for when markets revert back to trading their underlying fundamentals… Those who see weaker prices are pointing to technical charts for their short-term bearish view on gold…"
Bloomberg's gold survey had 14 participants forecasting higher gold prices next week. Nine were bearish.
Silver, Platinum and Palladium Futures
In other New York bullion futures on Friday:
Breaking a three-session losing streak, March silver rebounded 52.5 cents, or 1.8%, to $30.203 an ounce. Silver dropped 61.1 cents on Tuesday, 55.3 cents on Wednesday and $1.44 on Thursday when it settled to its lowest price since Aug. 22.

Platinum for January delivery settled at $1,536.90 an ounce, dropping $9.30, or 0.6%.

March palladium added $2.05, or 0.3%, to close at $682.30 an ounce.
While still healthy, large chunks were taken from precious metals gains this year. For the year-to-date, advances include 8.2% for silver, 9.4% for platinum and 4.0% for palladium.
London Precious Metals
Precious metals in London were mostly lower Friday. The exception was gold, but it logged a less than 0.1% increase. When comparing the latest London PM Fix prices:
Gold added $1 to $1,651.50 an ounce,
Silver declined $1.23, or 4.0%, to $29.89 an ounce,
Platinum lost $42.00, or 2.7%, to $1,533.00 an ounce, and
Palladium shed $10.00, or 1.4%, to $675.00 an ounce
Prices for the week fell 2.6% for gold, 8.1% for silver, 5.0% for platinum and 3.6% for palladium.
US Mint Bullion Coin Sales in December
Buying activity for U.S. Mint bullion products keyed on gold coins since the bureau's 2012-dated American Eagle silver coins sold out on Monday. In a breakdown of weekly sales:
Gold bullion coins rallied 33,000 ounces with splits of 31,500 ounces in 22-karat American Eagle gold coins and 1,500 ounces in 24-karat American Buffalo gold coins. Gold coin sales totaled 11,500 ounces last week. Gold Eagles are at 67,000 ounces for the month, which is already higher than eight other 2012 monthly totals.

Silver coins reached 232,000 ounces, all coming from sales of American Eagle silver coins. With their sellout and the U.S. Mint saying it will not offer any 2013-dated Silver Eagles until January 7, 2013, December Silver Eagle sales conclude at 1,635,000. Annual sales close at 33,742,500 — the third highest in the Eagle's 27-year history. The stronger years were 2011 at 39,868,500 and 2010 at 34,662,500.
U.S. Mint bullion sales on the day, for the week, December and year-to-date follow.
US Mint American Eagle and Buffalo Bullion Coin Sales
Friday Sales
Last Week
Weekly Sales
Dec Sales
YTD 2012
$50 American Eagle Gold Bullion Coins
2,500
9,000
30,500
64,000
658,000
$25 American Eagle Gold Bullion Coins
0
0
1,000
3,000
71,000
$10 American Eagle Gold Bullion Coins
0
0
2,000
6,000
76,000
$5 American Eagle Gold Bullion Coins
0
0
0
0
315,000
$50 American Buffalo Gold Bullion Coins
0
2,500
1,500
8,000
132,000
American Eagle Silver Coin
N/A
500,000
232,000
1,635,000
33,742,500
America the Beautiful 5 Oz. Silver Bullion Coin Sales
Friday Sales
Last Week
Weekly Sales
Dec Sales
All-Time Total
2012 El Yunque National Forest 5 oz. Silver Bullion Coins
0
0
0
2,000
21,900
2012 Chaco Culture National Historical Park 5 oz. Silver Bullion Coins
0
0
0
0
20,000
2012 Acadia National Park 5 oz. Silver Bullion Coins
0
0
0
0
25,400
2012 Hawai'i Volcanoes 5 oz. Silver Bullion Coins
0
0
0
0
20,000
2012 Denali National Park 5 oz. Silver Bullion Coins
0
0
0
0
20,000
2011 Olympic National Park 5 oz. Silver Bullion Coins
0
0
0
0
85,900
2011 Vicksburg National Military Park 5 oz. Silver Bullion Coins
0
0
0
0
39,500
2011 Chickasaw Park 5 oz. Silver Bullion Coins
0
0
0
0
29,700
TOTAL
0
0
0
2,000
262,400
Coin sales figures shown above are in the number of coins sold. Calculate total ounces by using the bullion coin's weight.