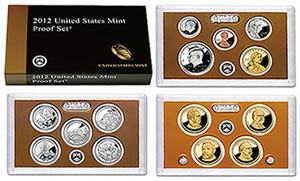 2012 Proof Sets hurdled 600,000 in sales through the first six months of their release, new figures from the United States Mint show.
It marks a milestone most world mints would be thrilled about for any numismatic product, yet this year's core set remains on track to log ending sales that are weaker than past issues.
2012 proof sets launched on May 7, 2012 and include 14 coins for a price of $31.95 — the same number of coins and at the same price as sets released annually since 2010. Adding in the latest weekly increase of 13,156, sales are 604,170 as of November 5, 2012.
Last year's set during the six-month point had sales of nearly 775,000. Still available and placed on sale January 11, 2011, it has current sales of 1,089,180.
Despite getting released more than six months earlier than the prior year and available for longer, it also appears that the 2011 Proof Set will not reach 2010 Proof Set sales of 1,103,950. Recent data has shown weekly gains of much less than 1,000, with the latest at 262. The set is expected to go off sale by the end of December.
The following table offers the ending and current sales figures for annual proof sets released between 2007 and 2012.
Sales Figures for 2007-2012 Proof Sets
Issue
Price
Coins
Issue
Date
Current Sales
2012 Proof Set
$31.95
14
May 7, 2012

Still on Sale

604,170

2011 Proof Set
$31.95
14
January 11, 2011

Still on Sale

1,089,180

2010 Proof Set
$31.95
14
July 22,
2010
1,103,950
2009 Proof Set
$29.95
18
June 1,
2009
1,477,967
2008 Proof Set
$26.95
14
June 24,
2008
1,405,674
2007 Proof Set
$26.95
14
July 19,
2007
1,702,116
This year's set includes 14 San Francisco minted proof coins each bearing the 'S' mint mark. They are collector versions of all the coins intended for circulation, including the 2012 America the Beautiful Quarters depicting:
El Yunque National Forest in Puerto Rico
Chaco Culture National Historical Park in New Mexico
Acadia National Park in Maine
Hawaii Volcanoes National Park in Hawaii
Denali National Park in Alaska
It also features the 2012 Native American dollar and the four 2012 Presidential $1 Coins depicting Chester A. Arthur, Grover Cleveland (first term), Benjamin Harrison, and Grover Cleveland (second term).
2011-2012 Proof Sets may be purchased through the U.S. Mint online ordering page located here.