Heritage's recent ANA U.S. Coins Signature® Auction was described as a "rousing success" by Greg Rohan, President of Heritage Auctions. Auction sales back up the description.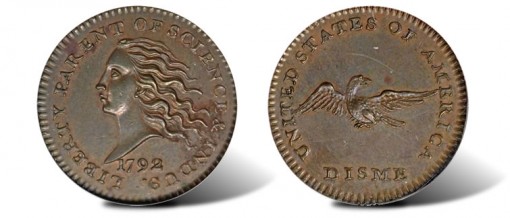 Held in conjunction with the ANA's annual National Money Show, Oct. 18-20 at the Dallas Convention Center, Heritage's U.S. coins auctions generated $23.1 million in total sales from 7,621 lots for a 97% sell-through rate by value. Heritage's companion currency auction resulted in more than $5.3 million in sales from over 4,000 lots for a 92.9% sell-through rate by value.
"As the auction was in Dallas, our backyard, we felt compelled to make a strong showing," said Rohan "When all was said and done, combining both the results of U.S. Coins along with the Currency offerings, we are looking at an event total of more than $28 million — strong across the board."
Collectors keyed heavily on rare examples of early American coinage and high grade gold. At the top was a 1792 Disme in Copper, Judd-10, PR62 Brown NGC, realizing $587,500.
One of only four known 1802 Dollars, a PR64 PCGS, also known as a novodel, realized $411,250 in "spirited bidding."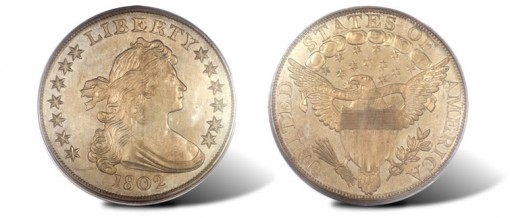 Another Featured Collection, The Gnome at the Shore Collection, complemented the Greensboro offerings with important 19th century gold. An 1882 double eagle, graded PR66 Ultra Cameo NGC, CAC, realized $293,750. It is one of only 59 proofs minted in a year known for its low business-strike production of just 571 pieces.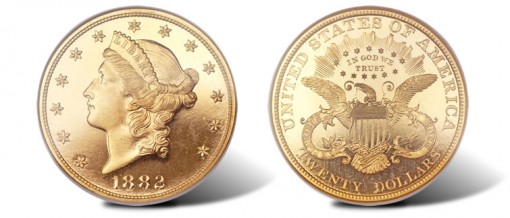 An 1870-CC double eagle, XF40 NGC, realized $193,875. It comes from the first year of coinage at the legendary Carson City Mint in western Nevada. Only a few dozen survivors are known to exist.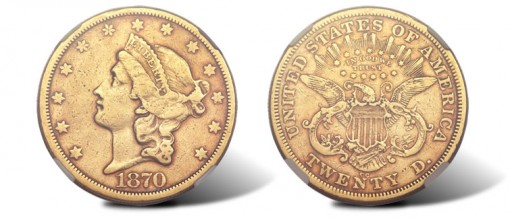 Additional auction highlights include, but are not limited to:
1838 10C No Drapery PR67 Cameo NGC: From The Greensboro Collection, Part I. Realized: $164,500.
1792 H10C Half Disme, Judd-7, Pollock-7, R.4, AU55 PCGS: Realized: $158,625.
1879 $4 Flowing Hair, Judd-1635, Pollock-1833, R.3, PR63 Cameo PCGS Secure. CAC: Realized: $152,750.
1833 $5 Large Date PR61 NGC. BD-1, R.5, R.8 as a Proof: Realized: $146,875.
About Heritage Auctions
Heritage Auctions, headed by Steve Ivy, Jim Halperin and Greg Rohan, is the world's third largest auction house, with annual sales more than $800 million, and 750,000+ online bidder members. For more information about Heritage Auctions, and to join and gain access to a complete record of prices realized, along with full-color, enlargeable photos of each lot, please visit HA.com.