Nearly 5,000 lots will cross the block in Heritage's upcoming currency auction at the Florida United Numismatists (FUN) convention in Fort Lauderdale, Florida.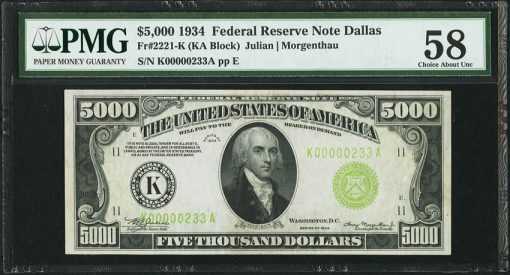 Event highlights include a 1934 $5,000 Federal Reserve Note and a historic collection of Confederate paper money.
"This auction is ideal for both the specialist and those seeking Federal Bank Note rarities as well as local rarities from nearly every state in the union," said Dustin Johnston, Director of Currency Auctions at Heritage.
These notes are just a few samples of items available from the Dr. Wayne Schmalhausen Collection, the Gilmore Sem Collection and selections from the Yuri Solovey Collection, and a Private New York Collection Part II.
The 1934 $5,000 FRN, graded PMG Choice About Unc 58, has never been in public auction and could realize from $120,000 to $140,000.
"Dr. Schmalhausen hand-picked this $5,000 for its stunning eye appeal," Heritage Actions describes. "The technical grade of 58 bestowed by PMG omits some very important attributes; the paper is attractive and original, with deep embossing of the overprint."
Another auction highlight includes a well-circulated Northfield $1 Original Series Ace from the Gilmore Sem Collection of Minnesota National Bank Notes.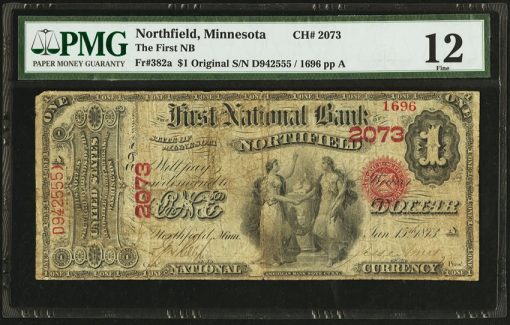 Northfield is a historic town for Minnesotans and its bank was center stage for one of the most storied bank robberies in history. On the afternoon of Sept. 7, 1876 citizens joined together to protect their town and bank from a robbery attempt by the James-Younger Gang, which included Jesse James. The attempted robbery of the First National Bank of Northfield was thwarted quickly by local townspeople who showed up with guns, killing and wounding some of the gang members and capturing the Younger brothers. Frank and Jesse James eluded capture. Cole and Bob Younger spent years in the state prison in Stillwater.
In an interview about the robbery, Cole and Bob stated this bank was targeted specifically because of Jesse Ames, the signer on this note. Ames' son, Adelbert Ames, served in the Union Army Civil War and later became Governor of Mississippi. The James-Younger gang was made up of mostly former Confederate soldiers and the robbery was purported to be retaliation against these two men who had interest in the bank.
Finally, there are rare moments in collecting when treasures that have only been heard of or read about miraculously appear, like the Original Bechtel Album for Confederate Notes. The album contains most of the great Confederate rarities, including all four of the Montgomery notes, the T27, and the T35 "Indian Princess."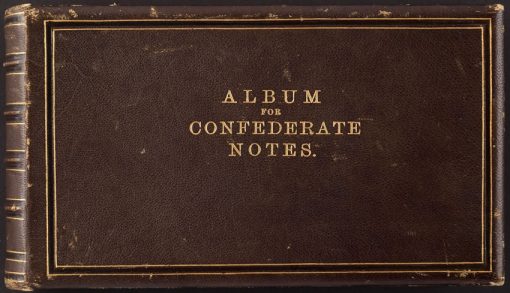 The 62nd annual FUN Convention will be January 5 to 8, 2017 at the Greater Fort Lauderdale/Broward Convention Center.
Heritage Auctions is the largest auction house founded in the United States and the world's third largest, with annual sales of more than $800 million and over one million online bidder members. To learn more about the company, visit HA.com.