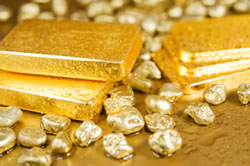 Gold declined in thin trading Monday for a second straight session of losses after having surged to an 11-month high on Thursday.
Gold for December delivery retreated $5.10, or 0.3%, to settle at $1,775.70 an ounce on the Comex in New York. Prices on the day traded from a low of $1,768.20 to a high of $1,782.50.
Profit-taking and a stronger U.S. dollar were catalysts for gold's direction, opined analysts.
"The dollar is keeping the market quiet," Pratik Sharma, a fund manager at Miami-based Atyant Capital, said in a telephone interview that was relayed on Bloomberg. "There is also some profit-taking."
Reuters noted that gold's two-day fall, which equates to a near 1% decline since Thursday, was the largest since August. Some market-watchers cite the possibility for further southerly movement.
"It's quite possible that we do see further follow-through selling because we had a sharp move up in the last quarter," Reuters quoted Mark O'Byrne, executive director at bullion dealer GoldCore.
In other New York bullion prices on Monday:
Falling by more than 50 cents for a second straight session, silver for December delivery declined 55.5 cents, or 1.6%, to $34.017 an ounce. Silver prices traded between $33.620 and $34.605.

Platinum for January delivery settled down $8.40, or 0.5%, to $1,698.80 an ounce, ranging from $1,678.00 to $1,708.80.

Palladium for December delivery declined $6.25, or 0.9%, to $656.95 an ounce, ranging from $646.10 to $662.95.
For all last week, silver declined less than 0.1% as the other metals recorded increases of 0.4% for gold, 2.3% for platinum and 3.5% for palladium.
London Bullion Prices
London precious metals also logged across-the-board losses on Monday. In comparing the latest London PM Fix prices:
Gold shed $10.50, or 0.6%, to $1,773.50.00 an ounce,
Silver plunged $1.00, or 2.9%, to $33.85 an ounce,
Platinum fell $29.00, or 1.7%, to $1,682.00 an ounce, and
Palladium lost $15.00, or 2.2%, to $652.00 an ounce
The downward activity contrasts against the gains each metal made last week, which were 0.5% for gold, 0.6% for silver, 2.6% for platinum and 3.9% for palladium.
U.S. Mint Bullion Coin Sales for October and YTD
Sales amounts for U.S. Mint bullion coins remained unchanged Monday as of 4:32 p.m. ET. The following grid offers the latest daily, October and year-to-date bullion sales figures as provided by the U.S. Mint.
Sales of US Mint American Eagle and Buffalo Bullion Coins
Daily Sales
October Sales
YTD 2012
$50 American Eagle Gold Coins
0
7,500
418,000
$25 American Eagle Gold Coins
0
0
61,000
$10 American Eagle Gold Coins
0
0
62,000
$5 American Eagle Gold Coins
0
10,000
260,000
$50 American Buffalo Gold Coins
0
2,500
99,000
American Eagle Silver Coins
0
1,233,000
27,028,000
Sales of America the Beautiful 5 Oz. Silver Bullion Coins
Daily/October Sales
All-Time Total
2012 El Yunque National Forest 5 oz. Silver Bullion Coins
0
17,900
2012 Chaco Culture National Historical Park 5 oz. Silver Bullion Coins
0
17,200
2012 Acadia National Park 5 oz. Silver Bullion Coins
0
18,000
2012 Hawai'i Volcanoes 5 oz. Silver Bullion Coins
0
10,400
2011 Olympic National Park 5 oz. Silver Bullion Coins
0
85,900
2011 Vicksburg National Military Park 5 oz. Silver Bullion Coins
0
39,500
2011 Chickasaw Park 5 oz. Silver Bullion Coins
0
29,700
TOTAL
0
218,600