Investors and collectors interested in the 2013 Pronghorn Antelope silver bullion coin will find it for sale next month from Universal Coin & Bullion.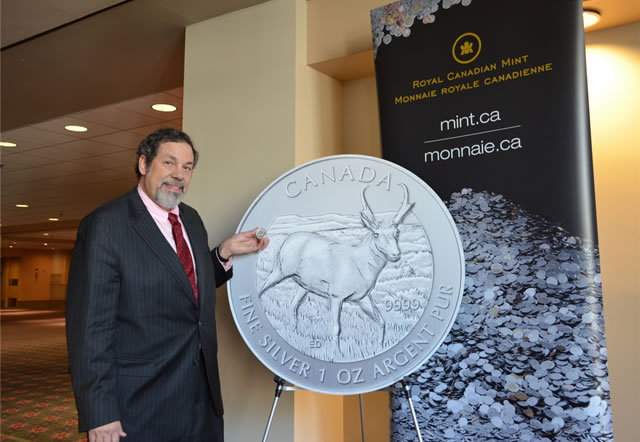 Depicting the Pronghorn Antelope, the coin was unveiled by the Royal Canadian Mint earlier this month as the second to last issue in the six-coin Canadian Wildlife series.
Michael Fuljenz, President of Universal Coin & Bullion, served as an expert consultant on its design.
"The previous coins in the exciting wildlife series quickly sold out, and we've had many inquiries about when the fifth design would be available," said Fuljenz who helped vet the coin's final design.
Minted from one ounce of 99.99% pure silver, the coins are produced as a bullion product intended for investors. As such, the Royal Canadian Mint does not offer them directly to the public but instead sells them in large volumes through a network of global distributors. Distributors then resell them for a small amount over the latest price of silver.
Availability and Ordering Details
2013 Pronghorn Antelope coins are expected to be available in mid-September, with Universal Coin & Bullion selling them while supplies last.
The company may be contacted at (800) 459-2646 or found online at www.UniversalCoin.com.
Coin Designs
Designed by Emily S. Damstra, the reverse features a Pronghorn Antelope walking in the wild within a field of grass. Below the antelope are the artist's initials ED. To the side is 9999 for the coin's silver purity. Surrounding the scene are the inscriptions CANADA, FINE SILVER, 1 OZ, and ARGENT PUR.
The obverse side has an effigy of Queen Elizabeth II by Susanna Blunt. Inscriptions include ELIZABETH II, 5 DOLLARS, and 2013.
Past issues in the Canadian Wildlife series depicted a wolf, grizzly bear, cougar and moose.