Information is now available for the 2013 Pronghorn Antelope Silver Bullion Coin, the fifth of six issues in the popular Canadian Wildlife silver bullion coin series.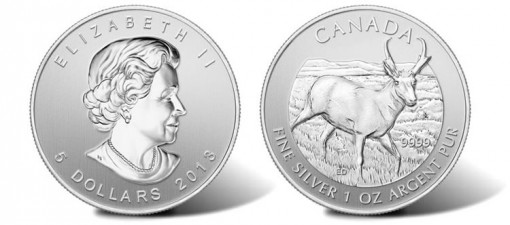 The Royal Canadian Mint unveiled the 2013-dated coin at the American Numismatic Association's World's Fair of Money Fair in Philadelphia, Pennsylvania on August 9, 2012.
Per the Mint's news release, the pronghorn antelope is a true North American symbol, with herds of them live in areas stretching from southern Alberta and Saskatchewan in Canada all the way down to the Baja Peninsula and parts of Northern Mexico.
As expected, featured on the reverse of the bullion coin is an image of a Pronghorn Antelope walking in a field. It was drawn by Canadian artist and accomplished coinage designer Emily S. Damstra. Inscriptions include CANADA, FINE SILVER, 1 OZ, and ARGENT PUR. These elements surround the artwork. 9999 and ED for the coin's purity and the artist's initials are placed on either side of the antelope.
An effigy of Her Majesty Queen Elizabeth II, by Canadian artist Susanna Blunt, graces its obverse. Inscriptions are ELIZABETH II, 5 DOLLARS, and 2013.
This one ounce bullion coin will have a maximum mintage of one million, and it will be available through the Royal Canadian Mint's global network of bullion distributors, including banks, coin dealers, foreign currency exchange offices, and brokerage houses. They are expected to be available by September.
Pricing of the 2013 Pronghorn Antelope Silver Bullion Coin will vary daily based on the international market rates of the precious metal it contains, which is exactly like pricing for the popular Canadian Maple Leaf. A reasonable premium has been added to cover the cost of manufacturing, transportation, and distribution.
One more coin in the Canadian Wildlife silver bullion coin series will be announced in early 2013 to complete the program. Previous issues were the 2011 dated coins featuring a wolf and a grizzly bear, followed by 2012's cougar and moose coins.