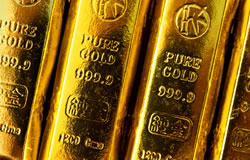 Gold closed modestly lower Wednesday, snapping a five-day winning streak, but prices rebounded in after-hours trading when minutes from the Fed's latest policy meeting were released.
The FOMC appears closer to a third round of monetary easing, and that was bullish for precious metals in late-afternoon trading.
"Many members judged that additional monetary accommodation would likely be warranted fairly soon unless incoming information pointed to a substantial and sustainable strengthening in the pace of the economic recovery," revealed minutes from the FOMC meeting held between July 31 and August 1.
Gold was up as much as $15 to $1,657.90 an ounce following the release of the minutes.
"It was not widely expected the FOMC minutes would reveal anything new that would further suggest another round of quantitative easing of U.S. monetary policy is right around the corner," noted Jim Wyckoff in the P.M. Kitco Metals Roundup.

"But the market place was a bit surprised by the meeting minutes that hinted such is indeed the case," added Wyckoff.
In its settlement price before the minutes were made available, gold for December delivery was off $2.40, or 0.1%, to $1,640.50 an ounce. Gold prices ranged from an intraday low of $1,636.30 to a high of $1,650.60. In the previous session, the yellow metal had closed to its highest price since May 4.
In other New York precious metals closing prices:
Silver prices for December delivery added 12.8 cents, or 0.4%, to close at $29.556 an ounce. Prices ranged from $29.170 to $29.670.

Platinum for October delivery settled up $18.70, or 1.2%, to $1,526.50 an ounce, trading between $1,505.10 and $1,530.60.

Palladium for September delivery climbed $4.55, or 0.7%, to $628.75 an ounce, ranging from $621.15 to $634.70.
London Precious Metals
London precious metals were higher Wednesday. When comparing the London PM Fix prices:
Gold added $2.50, or 0.2%, to $1,642.00 an ounce,
Silver gained 41.0 cents, or 1.4%, to $29.33 an ounce,
Platinum rose $14.00, or 0.9%, to $1,518.00 an ounce, and
Palladium advanced $12.00, or 1.9%, to $628.00 an ounce
Sales of U.S. Mint Bullion Coins
Modest mid-afternoon gains were reported by the U.S. Mint for its one-ounce American Eagle gold coins. The 22-karat gold coins advanced 1,000.
The following grid offers the most recent daily, August and year-to-date bullion coin sales, as published by the U.S. Mint.
Sales of US Mint American Eagle and Buffalo Bullion Coins
Daily Gains
August Gains
YTD 2012
$50 American Eagle Gold Coins
1,000
17,500
331,000
$25 American Eagle Gold Coins
0
1,000
57,000
$10 American Eagle Gold Coins
0
0
54,000
$5 American Eagle Gold Coins
0
10,000
200,000
$50 American Buffalo Gold Coins
0
5,500
84,500
American Silver Eagle Coins
0
2,021,000
21,691,000
Sales of America the Beautiful 5 Oz. Silver Bullion Coins
Daily Gains
August Gains
All-Time Total
2012 El Yunque National Forest 5 oz. Silver Coins
0
600
13,800
2012 Chaco Culture National Historical Park 5 oz. Silver Coins
0
1,100
8,500
2012 Acadia National Park 5 oz. Silver Coins
0
5,200
15,100
2011 Olympic National Park 5 oz. Silver Coins
0
300
85,800
2011 Vicksburg National Military Park 5 oz. Silver Coins
0
100
39,200
2011 Chickasaw Park 5 oz. Silver Coins
0
100
29,500
TOTAL
0
7,400
191,900
All U.S. Mint bullion sales above are in coin totals, not in amount of ounces sold.