The 2011 Proof American Platinum Eagle Coin was released Thursday, May 26, for an opening price of $2,092.00. Now the question is, how long will it take for the United States Mint to sell all 15,000 of them, assuming it will indeed sell out.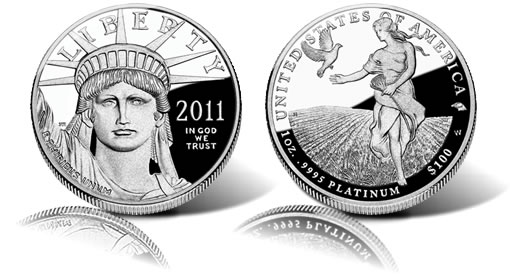 In 2009 and 2010, collectors jumped at their chance to get the newly designed coins, and each sold out in about a week. Of course back then the United States Mint launched them later in the year, struck fewer of them, and sold them for much less.
This year's higher mintage of 15,000 should make the Platinum Eagle coin available longer. In 2009, only 8,000 were produced and in 2010, the United States Mint struck 10,000. The initial order limit of five (5) coins per household is the same this year as it was in those previous years.
Coin Specifications & Design
The one ounce proof coin contains 99.95% platinum, has a reeded edge, and display the West Point "W" mint mark on the reverse. What makes them different this year is the new design, emblematic of the theme, "To Insure Domestic Tranquility."
Although 2011 represents the 14th year for the American Platinum Eagle, this year's eagle is the third in a six-year series introduced in 2009 as the Preamble Series. The designs celebrate six core concepts of American democracy as described in the Preamble of the United States Constitution.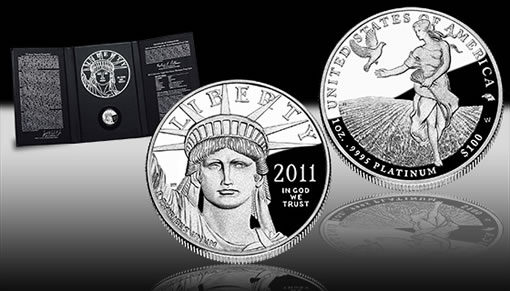 The reverse of the 2011 Proof American Platinum Eagle features a harvest goddess emerging from a field of wheat, which symbolizes "the vastness of our Nation and its wide diversity of views." She holds a stalk of wheat in her left hand as she extends her right hand to a dove, which is meant to represent "the fulfillment of tranquility in our Nation's cohesive yet free society." Inscriptions include UNITED STATES OF AMERICA, 1 oz., .9995 PLATINUM and $100. It was designed by Joel Iskowitz and sculpted by Phebe Hemphill.
Also, the six-coin series features a privy mark on their reverses, which is from an original coin punch identified at the United States Mint at Philadelphia.
The obverse depicts the familiar forward facing portrait of Lady Liberty and is said to symbolize vigilance and faithfulness to duty. It was both designed and sculpted by John Mercanti.
Proof American Platinum Eagle Prices & Mintage Limits
At an initial price of $2,092.00, the highest the United States Mint has ever charged for a single platinum coin, the eagle will be more difficult to sell to collectors in this economy. The price is subject to change, since it is based on the fluctuating weekly average price of platinum per the London Fix set each Wednesday.
Below is a chart of a few specifics as related to the Preamble Series, including past coin prices:
| | | | | |
| --- | --- | --- | --- | --- |
| Year | Launch Date | Mintage | Price | Reverse Design Theme |
| 2009 | December 3, 2009 | 8,000 | $1,792 | To Form a More Perfect Union |
| 2010 | August 12, 2010 | 10,000 | $1,892 | To Establish Justice |
| 2011 | May 26, 20111 | 15,000 | $2,092 | To Insure Domestic Tranquility |
| 2012 | ? | ? | ? | To Provide for the Common Defense |
| 2013 | ? | ? | ? | To Promote General Welfare |
| 2014 | ? | ? | ? | To Secure the Blessings of Liberty to Ourselves and our Posterity |
Order Information
The 2011 Proof American Platinum Eagles may be purchased directly from the United States Mint at http://www.usmint.gov/catalog, or directly here, and by phone at 1-800-USA-MINT (872-6468). Hearing and speech-impaired customers with TTY equipment may place their orders by calling 1-888-321-MINT (6468). A shipping and handling fee of $4.95 will be added to all domestic orders.