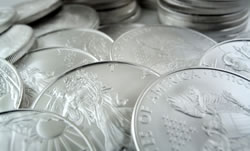 Gold rallied Wednesday to close above $1,600 an ounce for the first time in nearly three weeks while snapping a two-day losing streak. Tailwinds from a weakened U.S. dollar lifted the yellow metal, as did renewed talk of more monetary easing in the U.S. and Europe.
"The gold market has been looking for any hints of any quantitative easing program. You are seeing this big bounce today off the fact that there could be something going on in euroland," Reuters quoted Jeffrey Sherman, commodities portfolio manager at DoubleLine Capital LP, which has $38 billion in assets.
Gold prices for August delivery advanced $31.90, or 2.0%, to $1,608.10 an ounce on the Comex in New York. It was gold's first settlement above $1,600 an ounce as well as its best closing price since July 5. Intraday prices moved between $1,577.90 and $1,610.00.
In other New York precious metals futures:
Silver prices for September delivery jumped 65.5 cents, or 2.4%, to settle at $27.466 an ounce. Silver ranged from an intraday low of $26.780 to a high of $27.520.

Platinum prices for October delivery closed at $1,399.40 an ounce, gaining $12.80 or 0.9%. Platinum traded between $1,383.30 and $1,407.00.

Palladium prices for September delivery edged up $3.65, or 0.6%, to $565.25 an ounce, ranging from $561.00 to $569.00.
London Precious Metals
Earlier fixed London bullion prices were mixed. Palladium dipped slightly while other precious metals advanced with mostly modest increases. When comparing the London PM Fix prices:
Gold added $17.75, or 1.1%, to $1,601.00 an ounce,
Silver climbed 18.0 cents, or 0.7%, to $27.11 an ounce,
Platinum added $1.00, or 0.1%, to $1,396.00 an ounce, and
Palladium declined $3.00, or 0.5%, to $566.00 an ounce
U.S. Mint Bullion Coin Sales
Demand spiked for U.S. Mint bullion coins.
Gold bullion coin sales rose by 3,000 ounces on Wednesday for a mid-week total of 5,000 ounces, or five times the amount sold during all last week.

Sales of Silver Eagle coins jumped 200,000, lifting their year-to-date total above 19 million. It also pulled July sales from the lowest of the year to above the monthly sales logged in February and April. 440,000 Silver Eagle coins have sold so far this week, topping the 322,000 sold during all of last week.
The following are the latest daily, July and year-to-date bullion coin sales totals as published by the U.S. Mint.
US Mint American Eagle and Buffalo Bullion Coin Sales
Daily Gains
July Gains
YTD 2012
$50 American Gold Eagle Coins
2,000
21,000
306,000
$25 American Gold Eagle Coins
0
0
56,000
$10 American Gold Eagle Coins
0
2,000
54,000
$5 American Gold Eagle Coins
0
0
175,000
$50 American Buffalo Gold Coins
1,000
2,500
77,500
American Eagle Silver Coins
200,000
1,668,000
19,060,000
America the Beautiful 5 Oz. Bullion Silver Coin Sales
Daily Gains
July Gains
All-Time Total
2012 El Yunque National Forest 5 oz. Silver Coins
0
1,700
11,600
2012 Chaco Culture National Historical Park 5 oz. Silver Coins
0
2,700
5,900
2011 Olympic National Park 5 oz. Silver Coins
0
100
85,300
2011 Vicksburg National Military Park 5 oz. Silver Coins
0
200
38,800
2011 Chickasaw Park 5 oz. Silver Coins
0
200
31,100
TOTAL
0
4,900
170,700
The above U.S. Mint bullion coin sales are in coin totals, not the amount of ounces sold.