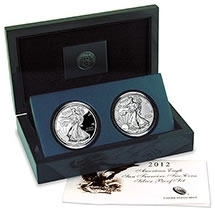 U.S. Mint sales of the 2012-S American Silver Eagle Two-Coin Proof Set from San Francisco ended last Thursday, July 5, 2012. An ending sales figure published on the set's product page the following day listed the total number sold at 251,302.
With roughly a quarter of a million purchased, thousands will make their way into the secondary market. In fact, some appeared for "pre-sale" on sites like eBay even before the proof set went on sale on June 7, 2012. Many more have been listed since, and there have been some sizable premiums paid.
Set Premiums in Secondary Market
Through its entire four-week sales window ending on July 5, 2012, the 2012-S Silver Eagle Two-Coin Set was priced by the U.S. Mint at $149.95. Secondary market buyers have shelled out more than that.
A look at successful eBay auctions over the last month finds premiums of 12% to 66%. $194 was the average price paid while the proof set was still available from the Mint.
One reason for paying more in the secondary market could be attributed to order positioning. U.S. Mint customers who placed their orders first will get them soonest. The bureau has indicted that shipments will begin around July 27 and continue through mid-October. Thus, if a seller on eBay indicates their orders were among the first received, a bidder may have been willing to pay more to insure faster receipt. It could also entitle them to special grading opportunities such as a First Strike designation.
Current auctions on eBay are holding at about the same price points. Most bidders have been be able to get a Silver Eagle Two-Coin Set for a bit under $200. Those looking to buy immediately will pay more with the cheapest Buy It Now prices around $240.
Only time will tell if the secondary market premiums hold. With a likely ending mintage close to 250,000 after returns and cancellations trim the last reported sales total, many more will undoubtedly be offered for re-sale.
Each proof set includes one 2012-S Proof American Silver Eagle and one 2012-S Reverse Proof American Silver Eagle, both bearing the San Francisco 'S' mint mark. The reverse proof has a mirror-like design against a frosted background. That is the opposite of the standard proof Silver Eagle issued by the U.S. Mint annually since 1986.