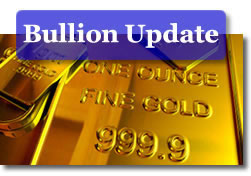 Gold advanced for the first time in three days Monday, supported by weakness in the U.S. dollar which had curbed the yellow metal's appeal for much of last week when prices fell 1.6%.
Gold prices for August delivery rebounded $10.20, or 0.6%, to settle at $1,589.10 an ounce on the Comex in New York. Prices traded between an intraday low of $1,576.00 and high of $1,593.10. Improved demand in China was also cited for gains in gold.
"Higher physical demand in China is good news for the market," Sterling Smith, a commodity analyst at Citigroup Inc.'s institutional client group in Chicago, said in a telephone interview that was relayed on Bloomberg. "The mildly weak dollar is also positive."
In other New York precious metals futures:
Silver prices for September delivery advanced 52.4 cents, or 1.9%, to close at $27.444 an ounce. Silver traded between $26.870 and $27.480.

The outlier in precious metals, platinum prices for October delivery dipped $3.60, or 0.2%, to settle at $1,445.90 an ounce, ranging from $1,435.00 to $1,451.30.

Palladium prices for September delivery closed at $583.90 an ounce, gaining $3.55 or 0.6%. It traded between $575.40 and $584.85.
In regard to PGM metals, Senior Metals Analyst Jon Nadler at Kitco Metals Inc. writes:
Platinum and palladium are still considered to offer positive supply and demand fundamentals and to play an indispensable role in the world's modern economies. Investors have begun rounding out their gold and silver portfolios with the so-called "noble" metals as a matter of necessity. This is not some kind of "diversify or die" panic-driven investment, but, rather a "diversify the pie" prudent, and potentially profitable, calculated move.
Last week, precious metals losses in New York were 2.5% for silver, 0.2% for platinum and 0.7% for palladium.
London Precious Metals
Bullion prices in London were mixed Monday. When comparing the latest London PM fixings:
Gold declined $2.00, or 0.1%, to $1,585.00 an ounce,
Silver was off 8.0 cents, or 0.3%, to $27.24 an ounce,
Platinum declined $9.00, or 0.6%, to $1,441.00 an ounce, and
Palladium added $5.00, or 0.9%, to $582.00 an ounce
Last week, gold declined 0.7% and palladium lost 0.2% while silver added 0.9% and platinum rose 1.5%.
U.S. Mint Bullion Coin Sales
Bullion coins produced by the U.S. Mint flourished Monday. The American Silver Eagle and America the Beautiful Five Ounce Silver Coins logged higher sales on Monday than their totals from last week. Sales of gold bullion coins reached 3,000 ounces, which is 43% of the sales garnered last week.
The following are the latest daily, July and year-to-date bullion coin sales totals as published by the U.S. Mint.
Sale of US Mint American Eagle and Buffalo Bullion Coins
Daily Gains
July Gains
YTD 2012
$50 American Eagle Gold Coin
2,000
8,000
293,000
$25 American Eagle Gold Coin
0
0
56,000
$10 American Eagle Gold Coin
0
2,000
54,000
$5 American Eagle Gold Coin
0
0
175,000
$50 American Buffalo Gold Coin
1,000
1,500
76,500
American Eagle Silver Coin
385,500
755,000
18,147,000
Sales of America the Beautiful 5 Oz. Bullion Silver Coins
Daily Gains
July Gains
All-Time Total
2012 El Yunque National Forest 5 oz. Silver Bullion Coins
400
500
10,400
2012 Chaco Culture National Historical Park 5 oz. Silver Bullion Coins
800
1,800
5,000
2011 Olympic National Park 5 oz. Silver Bullion Coins
100
100
85,300
2011 Vicksburg National Military Park 5 oz. Silver Bullion Coins
0
0
38,600
2011 Chickasaw Park 5 oz. Silver Bullion Coins
0
0
28,900
TOTAL
1,300
2,400
166,900
The above United States Mint bullion coin sales are in coin totals, not the amount of ounces sold.