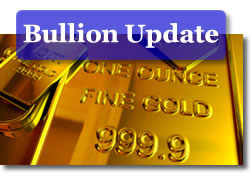 Gold rose gently in light trading Wednesday as many investors are said to be sidelined as they await results of the European Union summit that begins on Thursday and ends on Friday.
"There's no clear-cut direction, everybody is waiting for the EU summit," MarketWatch quoted Matt Zeman, head trader with Kingsview Finance in Chicago. "You probably are seeing some positioning ahead of that."
Gold prices for August delivery edged up $3.50, or 0.2%, to $1,578.40 an ounce on the Comex in New York. Prices traversed between an intraday low of $1,563.10 and a high of $1,584.60.
In other New York precious metals futures:
Silver prices for July delivery shed 9.6 cents, or 0.4%, to close at $26.942 an ounce. Silver traded between $26.600 and $27.275.

Platinum prices for July delivery settled to $1,409.70 an ounce, dropping $17.10 or 1.2%. Prices moved through a low of $1,403.20 to a high of $1,428.40.

Palladium prices for September delivery lost $13.95, or 2.3%, to $579.75 an ounce, trading between $575.00 and $596.70.
London Precious Metals
Following two days of mixed readings, London precious metals declined across the board on Wednesday. When comparing the latest London PM fixings:
Gold dipped $2.50, or 0.2%, to $1,573.50 an ounce,
Silver prices fell 60.05 cents, or 2.2%, to $26.835 an ounce,
Platinum slid $25.00, or 1.7%, to $1,408.00 an ounce, and
Palladium plunged $22.50, or 3.7%, to $579.00 an ounce
U.S. Mint Bullion Coin Sales
In a rarity, all U.S. Mint bullion gold coins advanced Wednesday while silver coins were muted. U.S. Mint authorized distributors ordered 7,500 troy ounces, spread across all four 22-karat American Gold Eagles and the 24-karat American Gold Buffalo.
The following are the latest daily, June and year-to-date bullion coin sales totals as published by the U.S. Mint.
Sales of US Mint American Eagle and Buffalo Bullion Coins
Daily Gains
June Gains
YTD 2012
$50 American Eagle Gold Coins
4,500
49,500
279,500
$25 American Eagle Gold Coins
1,000
2,000
56,000
$10 American Eagle Gold Coins
2,000
6,000
52,000
$5 American Eagle Gold Coins
5,000
25,000
175,000
$50 American Buffalo Gold Coins
1,500
10,000
75,000
American Eagle Silver Coins
0
2,593,000
17,127,000
On a side note, falling gold prices over the last several days resulted in price reductions for U.S. Mint numismatic gold and platinum coins. Cuts ranging from $5 to $100 were implemented a bit after 1:00 PM ET on Wednesday.
America the Beautiful 5 Oz. Bullion Silver Coin Sales
Daily Gains
June Gains
All-Time Total
2012 El Yunque National Forest 5 oz. Silver Bullion Coins
0
4,500
9,900
2012 Chaco Culture National Historical Park 5 oz. Silver Bullion Coins
0
3,200
3,200
2011 Olympic National Park 5 oz. Silver Bullion Coins
0
0
85,200
2011 Vicksburg National Military Park 5 oz. Silver Bullion Coins
0
200
38,600
2011 Chickasaw Park 5 oz. Silver Bullion Coins
0
0
28,900
TOTAL
0
3,500
162,400
All United States Mint bullion coin figures in the above tables are in coin totals, not the amount of ounces sold.