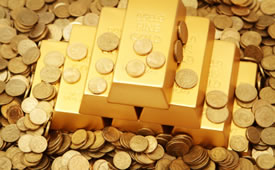 Gold prices settled higher for the first time in three sessions Monday after falling to a six-week low on Friday.
Gold for December delivery edged up $2.30, or 0.1%, to $1,726.30 an ounce on the Comex in New York. Trading occurred between intraday levels of $1,714.40 and $1,730.30.
"Comex gold prices ended the U.S. day session modestly higher in quieter trading Monday. The precious metals were supported on some short covering and bargain hunting following Friday's strong selling pressure," said Jim Wyckoff in the PM Kitco Metals Roundup.

"Gains were limited by mildly bearish 'outside markets' Monday, as the U.S. dollar index was slightly higher and crude oil prices were lower. The market place is awaiting the latest meeting of the U.S. Federal Reserve's Federal Open Market Committee, which begins Tuesday and ends Wednesday," Wyckoff added.
Last week, gold declined 2.0% after dropping by $20.70 on Friday alone.
In wrapping up New York precious metals futures:
Silver for December delivery closed at $32.252 an ounce, rising 15.5 cents or 0.5%. Silver ranged from $31.710 to $32.475.

Platinum for January delivery declined $3.30, or 0.2%, to $1,612.20 an ounce, trading between $1,605.40 and $1,629.70.

Palladium for December dipped 35.0 cents, or 0.1%, to $622.65 an ounce, trading between $618.40 and $631.60.
Losses among the three precious metals last week were 4.7% for silver, 2.6% for platinum and 3.7% for palladium.
London Bullion Prices
London precious metals continued lower. When comparing the most recent London PM Fix prices:
Gold declined $10.25, or 0.6%, to $1,726.75 an ounce,
Silver slipped 16.0 cents, or 0.5%, to $32.17 an ounce,
Platinum fell $26.00, or 1.6%, to $1,607.00 an ounce, and
Palladium lost $15.00, or 2.4%, to $623.00 an ounce
Losses last week were 1.7% for gold, 4.3% for silver, 2.7% for platinum and 1.8% for palladium.
U.S. Mint Bullion Coin Sales in October
Each of the U.S. Mint's major bullion products advanced Monday. In total, sales included 3,500 ounces of gold coins and 466,000 ounces of silver coins. Monday marked the first sales day for the last 2012 America the Beautiful 5 Oz. Silver Bullion Coin which honors Denali National Park. United States Mint distributors scooped up 5,200. That is lower than the 7,900 start for the immediate previous release honoring Hawai'i Volcanoes National Park.
The following table provides the most recent daily, October and year-to-date bullion sales figures as provided by the U.S. Mint.
Sales of US Mint American Eagle and Buffalo Bullion Coins
Daily Sales
October Sales
YTD 2012
$50 American Eagle Gold Coins
2,500
41,500
452,000
$25 American Eagle Gold Coins
0
0
61,000
$10 American Eagle Gold Coins
0
2,000
64,000
$5 American Eagle Gold Coins
0
15,000
265,000
$50 American Buffalo Gold Coins
1,000
8,500
105,000
American Eagle Silver Coins
432,500
2,449,000
28,244,000
Sales of America the Beautiful 5 Oz. Silver Bullion Coins
Daily Sales
October Sales
All-Time Total
2012 El Yunque National Forest 5 oz. Silver Bullion Coins
0
0
17,900
2012 Chaco Culture National Historical Park 5 oz. Silver Bullion Coins
0
1,000
18,200
2012 Acadia National Park 5 oz. Silver Bullion Coins
0
2,500
20,500
2012 Hawai'i Volcanoes 5 oz. Silver Bullion Coins
1,500
3,300
13,700
2012 Denali National Park 5 oz. Silver Bullion Coins
5,200
5,200
5,200
2011 Olympic National Park 5 oz. Silver Bullion Coins
0
0
85,900
2011 Vicksburg National Military Park 5 oz. Silver Bullion Coins
0
0
39,500
2011 Chickasaw Park 5 oz. Silver Bullion Coins
0
0
29,700
TOTAL
6,700
12,000
230,600