On Tuesday, June 26, the United States Mint released its 2012 Presidential $1 Four-Coin Sets. Buyers have the choice of two, filled with either circulating quality dollars produced in Philadelphia or from Denver, priced at $9.95 each.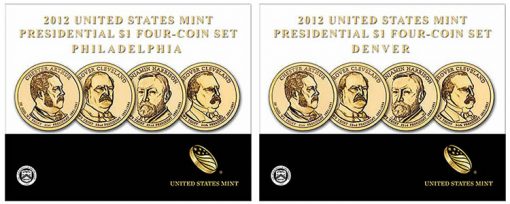 These sets contain the 2012 Presidential $1 coins featuring the 21st through 24th Presidents of the United States — Chester Arthur, Grover Cleveland (first term) Benjamin Harrison and Grover Cleveland (second term).
Presidential $1 Four-coin sets are new products even though the series honoring former Presidents debuted in 2007. Collectors in the past could attempt to get new dollars at banks, but the U.S. Mint is now the single originating source since the coins are no longer released into circulation.
On an upside, the sets offer a means to get all the 2012 P&D Presidential $1 coins at once without having to make separate purchases after each design launches within more expensive coin covers, 25-coin rolls, 100-coin bags and 250- and 500-coin boxes. On the downside, while the sets cost less than said products, their per coin premium is much higher.
Four-coin sets are packaged with collectors in mind as the dollars can easily removed for placement within albums or other types of numismatic accessories. The originating U.S. Mint facility is on the packaging, and the mint marks, "P" for Philadelphia or "D" for Denver, are inscribed on the edge of the coins next to "E PLURIBUS UNUM" and "2012".
Ordering Presidential Sets
Orders for Presidential $1 Four-Coin Sets may made via the United States Mint website at http://catalog.usmint.gov/ or its toll-free number 1-800-USA-MINT (872-6468). There are no limits for orders or mintages.
As mentioned earlier, the 2012 dollars will not be released into circulation, and that has helped sales for circulating quality Chester Arthur and Grover Cleveland's first term coins in the form of Presidential $1 Coin Covers for $19.95, 25-coin rolls priced at $32.95, 100-coin bags that are $111.95, 250-coin boxes for $275.95, and $500-coin boxes priced $550.95.
Products featuring the Benjamin Harrison and the Grover Cleveland second term will launch later this year, with the Harrison $1 coins scheduled to release on August 16, 2012 and the second Cleveland strike expected out on November 15, 2012.