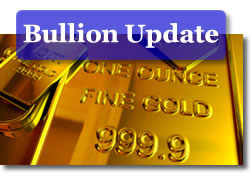 Gold plunged Thursday as weak global economic data failed to elicit safe-haven buying. The U.S. dollar was the chosen investment vehicle instead as commodities faltered and U.S. stocks tumbled.
Gold prices fell for a fourth session, but the previous three were modest dips while the latest one at over $50 was the worst since early April.
"When you see slowdown in China and in the United States and the debt crisis accelerate in Europe, it leads people to believe that we will have significant depreciation, especially when commodities and precious metals prices have been so tied into the monetary policy," Reuters quoted Jeffrey Sica, chief investment officer at SICA Wealth Management LLC, which oversees $1 billion in assets.
Gold prices for August delivery declined $50.30, or 3.1%, to $1,565.50 an ounce on the Comex in New York. Prices moved through an intraday range of $1,564.80 and $1,608.20.
In other New York futures on Wednesday:
Silver prices for July delivery plunged $1.55, or 5.5%, to $26.839 an ounce. Silver traded between $26.80 and $28.070.

Platinum prices for July delivery closed at $1,438.60 an ounce, falling $28.20 or 1.9%. Platinum hit a low and high of $1,431.50 and $1,462.40.

Palladium prices for September delivery shed $10.95, or 1.8%, to $608.55 an ounce, ranging from $606.00 to $620.80.
London Precious Metals
London precious metals also registered across the board losses, but they were less severe than futures in New York. When comparing the latest London PM fixings:
Gold stepped back $19.00, or 1.2%, to $1,582.00 an ounce,
Silver declined 43.0 cents, or 1.5%, to $27.88 an ounce,
Platinum dipped $2.00, or 0.1%, to $1,457.00 an ounce, and
Palladium retreated $7.00, or 1.1%, to $617.00 an ounce
Sales of U.S. Mint Bullion Coins
U.S. Mint bullion product advancements occurred across all one-ounce coins and a one-tenth ounce coin.
Gold coins shined. The $50 American Gold Eagle jumped 6,500 for its biggest one day pick-up since June 8. The $5 American Gold Eagle added 5,000 for its first daily increase also since June 8.
In silver bullion products, the American Silver Eagle gained 275,000 and is 25,000 shy of the 2 million mark for June. Five ounce ATB silver bullion coins remained unchanged.
The following are the latest daily, June and year-to-date bullion coin sales totals as published by the U.S. Mint.
Sales of US Mint American Eagle and Buffalo Bullion Coins
Daily Gains
June Gains
YTD 2012
$50 American Eagle Gold Coins
6,500
30,500
260,500
$25 American Eagle Gold Coins
0
1,000
55,000
$10 American Eagle Gold Coins
0
2,000
48,000
$5 American Eagle Gold Coins
5,000
10,000
160,000
$50 American Buffalo Gold Coins
1,000
6,000
71,000
American Eagle Silver Coins
275,000
1,975,000
16,509,000
Sales of America the Beautiful 5 Oz. Bullion Silver Coins
Daily Gains
June Gains
All-Time Total
2012 El Yunque National Forest 5 oz. Bullion Silver Coins
0
4,300
9,700
2011 Olympic National Park 5 oz. Bullion Silver Coins
0
0
85,200
2011 Vicksburg National Military Park 5 oz. Bullion Silver Coins
0
200
38,600
2011 Chickasaw Park 5 oz. Bullion Silver Coins
0
0
28,900
TOTAL
0
4,500
162,400
Above U.S. Mint bullion coin sales are in coin totals, not the amount of ounces sold.