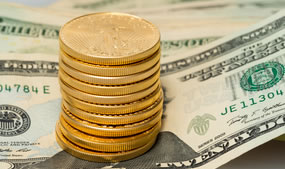 Snapping a three-session losing streak, gold rallied Friday as a lackluster U.S. jobs report pressured the dollar and stocks.
The Labor Department reported that the U.S. economy added just 88,000 jobs in March. The number was the lowest gain since June and less than half the expected figure many analysts were expecting.
Gold for June delivery advanced $23.50, or 1.5%, to settle at $1,575.90 an ounce on the Comex in New York. The yellow metal posted increases to start and end the week, but losses in middle were heavy as prices fell to a nine-month low by Thursday. In the end, gold declined $19.80, or 1.2%, from a week ago.
A number of market-watchers expect gold will maintain at least some of Friday's momentum.
"The lower-than-expected U.S. jobs data and a possible bounce from this week's lows could mean higher prices for gold next week, according to a majority of participants in the weekly Kitco News Gold Survey," reports Kitco.

"In the Kitco News Gold Survey, out of 34 participants, 29 responded this week. Of those 29 participants, 19 see prices up, while six see prices down, and four see prices moving sideways or are neutral…

Those who see weaker prices said they were unimpressed with gold's bounce on Friday, noting that the market has not responded in classic bullish ways to news that should be bullish…"
Bloomberg's weekly gold survey is split with 12 participants expecting higher gold prices, 12 bearish and 3 neutral.
For the year-to-date, gold has declined $99.90 or 6.0%.
Silver, Platinum and Palladium Futures
Silver and platinum also shot higher Friday, though palladium declined. Like gold, they also logged losses for the week. Their daily and weekly changes follow.
Advancing for the first time in eight sessions, silver for May delivery gained 45.3 cents, or 1.7%, to close at $27.22 an ounce. Silver fell $1.10, or 3.9%, from a week ago.

July platinum added $17.70, or 1.2%, to end at $1,535.50 an ounce. This week it declined $39.10 or 2.5%.

Sister metal palladium plunged $44.35, or 5.8%, from a week ago. On Friday, palladium for June delivery declined $1.55, or 0.2%, to $723.90 an ounce.
Silver leads precious metals losses this year, off 9.9% ($3). Platinum slipped into red with its weekly loss, now down 0.4% for the year-to-date. Palladium stands by itself, up 2.9% from its ending price last year.
Precious Metals in London
Bullion prices in London moved in the same direction Friday and the week as precious metals futures in New York. When comparing the Thursday PM to Friday PM London Fix prices:
Gold added $21.50, or 1.4%, to $1,568.00 an ounce,
Silver rose 17.0 cents, or 0.6%, to $26.97 an ounce,
Platinum inched up $5.00, or 0.3%, to $1,531.00 an ounce, and
Palladium fell $17.00, or 2.3%, to $720.00 an ounce
Losses for the week were 1.9% for gold, 5.8% for silver, 2.9% for platinum and 6.5% for palladium.
US Bullion Coin Sales in April
Sales of U.S. Mint bullion coins were muted Friday, the only time this week that the bureau's Gold Eagles did not rise. Silver Eagles advanced just once this week, on Monday, though they hit a new milestone. In weekly sales breakdowns:
Gold bullion coins totaled 24,000 ounces compared to last week's 17,500 ounces. Splits were 22,000 ounces in 22-karat American Gold Eagles and 2,000 ounces in 24-karat American Gold Buffalos.

American Silver Eagles totaled 812,000 compared the prior week's 918,500. The coins topped 15 million on Monday, the earliest the milestone has been reached in any year since the series debuted in 1986. Last year the 15 million mark was not hit until June 8.
2011-2012 America the Beautiful Five Ounce Silver Bullion Coins sold out on March 1. The U.S. Mint has not released any of this year's coins.
U.S. Mint bullion sales have been strong this year. Though gold and silver plunged in the January through March period, U.S. Mint gold and silver coins notched solid to record-setting quarterly gains.
The following are April and year-to-date bullion coin totals as reported by the United States Mint.
American Eagle and Buffalo Bullion Coin Sales
Friday Sales
Last Week
Weekly / April Sales
YTD Sales
$50 American Eagle Gold Bullion Coins
5,500
13,500
19,000
265,500
$25 American Eagle Gold Bullion Coins
0
1,000
1,000
27,000
$10 American Eagle Gold Bullion Coins
0
4,000
2,000
48,000
$5 American Eagle Gold Bullion Coins
0
15,000
20,000
235,000
$50 American Buffalo Gold Bullion Coins
0
1,000
2,000
97,000
American Silver Eagle Bullion Coins
0
918,500
812,000
15,035,000
All bullion figures above are in the number of coins sold. Calculate total ounces by using the bullion coin's weight.