Today, June 19, 2012, the United States Mint released a new Presidential $1 Coin Cover featuring two dollars honoring Grover Cleveland with an image of his likeness while serving his first term as President of the United States. Cleveland was the only U.S. President to serve two nonconsecutive terms.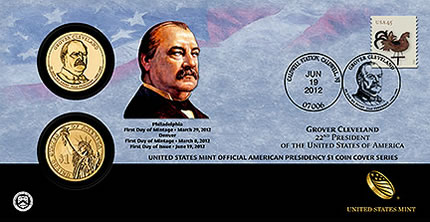 Grover Cleveland's Presidential $1 Coin Cover, the 22nd in the American Presidency $1 Coin Cover Series, is available for $19.95. There are no order limits in place but it does have a limited production of 22,000.
Housed within the coin cover's display card are two circulating quality Grover Cleveland $1's. These dollars came from the production floors on the first day of minting, with the one from the Denver Mint on March 8, 2012 and the other one from the Philadelphia Mint on March 29, 2012.
Also featured on the limited-edition Presidential $1 Coin Cover is a 45-cent Weather Vane postage stamp with a postmark of "June 19, 2012, Caldwell, NJ," to mark its release date.
Presidential $1 Coin Designs
Grover Cleveland's first term dollar depicts his likeness on the obverse, as designed and sculpted by Don Everhart. Inscriptions include "GROVER CLEVELAND," "IN GOD WE TRUST," "22nd PRESIDENT" and years of his first term: "1885-1889."
Each coin edge has the inscribed words of "E PLURIBUS UNUM" and "2012."
All Presidential $1 Coins bear Don Everhart's reverse design of the Statue of Liberty with inscriptions of "$1" and "UNITED STATES OF AMERICA."
Order Coin Cover from U.S. Mint
Anyone may order a first term Grover Cleveland Presidential $1 Coin Cover directly from the U.S. Mint website. It and past issues may be found here:
United States Mint Product page
Buyers may also call the bureau's customer service center at 1-800-USA-MINT (872-6468). Hearing and speech-impaired customers may order by calling 1-888-321-MINT (6468). A $4.95 shipping and handling charge is applied to all domestic orders.
25-coin rolls, 100-coin bags, and 250- and 500-coin boxes of the Cleveland $1 coins in circulation quality are also available from the U.S. Mint. The Mint-wrapped $25 rolls that contain either Denver or Philadelphia produced dollars have a price tag of $32.95, and the $100 bags from either facility cost $111.95 each. Boxes with 250 coins are $275.95 each while a 500-coin box is $550.95. Extra shipping and handling fees apply to the larger boxes due to weight.
Past U.S. Mint Presidential $1 Coin Product Releases
Presidential $1 Coins debuted in 2007 with releases depicting George Washington, John Adams, Thomas Jefferson and James Madison. 2008 offered dollars that celebrated James Monroe, John Quincy Adams, Andrew Jackson and Martin Van Buren.
In 2009, the coins featured William Henry Harrison, John Tyler, James K. Polk and Zachary Taylor, and the 2010 dollars depicted Millard Fillmore, Franklin Pierce, James Buchanan, and Abraham Lincoln. 2011 featured dollar coins of Andrew Johnson, Ulysses S. Grant, Rutherford B. Hayes and James Garfield.
This year's issues celebrate Chester A. Arthur, Grover Cleveland's first term, Benjamin Harrison, and Grover Cleveland's second term.
Grover Cleveland: 22nd President, 22nd in Presidential $1 Coin Series
Cleveland was both the 22nd and the 24th President of the United States. His birthplace was Caldwell, New Jersey in 1837, but he grew up in upstate New York.
Political eyes noticed him when he practiced law in Buffalo, became a sheriff and then the mayor of the city. Shortly afterwards, in 1883, he won the governorship of New York. His term curtailed only by the presidential election he won in 1884.
Cleveland went to Washington D.C. and served his first term between 1885 and 1889. He carefully considered federal aid and opposed it for some economic groups, including drought-stricken farmers, as well as vetoing private pension bills for Civil War veterans.
The issue of wanting Congress to reduce high protective tariffs reportedly was his undoing, and he was defeated for re-election in 1888 with fewer presidential electoral votes than Benjamin Harrison, although Cleveland won the popular majority. So he ran again in 1892, won, and served his second term between 1893 and 1897.