Heading into the three-day Memorial Day weekend, the United States Mint today, May 25, 2012, released the Grover Cleveland Presidential $1 Coin honoring the first of the former leader's two non-consecutive terms. The new coins celebrating the 22nd President went on sale at noon ET directly from the U.S. Mint in rolls, bags, and boxes.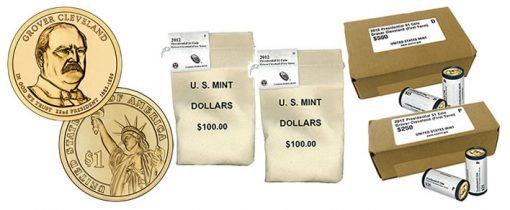 It is the second of four releases this year in the United States Mint Presidential $1 Coin Program, with the first $1 coin honoring Chester Arthur launching more than a month earlier. Each new design on the dollars is issued in the same order that a President served. Future coins in 2012 will honor President Benjamin Harrison and then Grover Cleveland again for his second term.
$1 Coins No Longer in Circulation, Latest Coin Production Figures
Finding 2012-dated dollars in pocket change will not be possible this year. By order of Treasury Secretary Timothy Geithner, the U.S. Mint stopped producing $1 coins in quantities for commerce in December 2011 because it was determined that the overages of older dollars stored in government vaults would cover commercial demand for more than a decade.
At this time, the U.S. Mint is only striking enough to fulfill collector demand. The U.S. Mint has produced 6.72 million through April, with splits of 2.66 million from Denver and 4.06 million from Philadelphia.
Below is a list of product and prices for the new strikes. The dollars in the rolls, bags, and boxes are produced in circulating quality as if they were meant for public circulation. Buyers have the choice of products from either the U.S. Mint facility in Philadelphia or Denver, the two plants responsible for producing the country's circulating coins.
Grover Cleveland Presidential Dollar Rolls
Each roll is $32.95 and contains 25 coins. The special U.S. Mint wrapping is black and white and printed on it is, "Presidential $1 Coin," "Grover Cleveland (First Term)", "$25," "United States Mint," and "www.usmint.gov." A letter "P" for Philadelphia or "D" for Denver is also on the wrapping.
Grover Cleveland Presidential Dollar Bags
Bags with 100 loose coins are $111.95. The tags on the canvas bags state: "2012," "Presidential $1 Coin," "Grover Cleveland (First Term)," "United States Mint," and either a "P" or "D."
Grover Cleveland Presidential Dollar Boxes
The 250-coin box is $275.95 and the coins inside it are wrapped in 10 rolls of 25 coins.
Similarly, the 500-coin box, priced at $550.95, has 20 rolls of 25 coins. There is an additional shipping charge of $7.95 per 500-coin box which is added to the regular shipping and handling fee because of the extra weight.
Presidential $1 Coin Design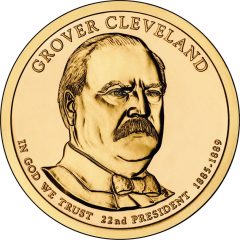 Don Everhart, United States Mint Sculptor-Engraver, designed and engraved both sides of the latest Presidential issue. The obverse showcases Grover Cleveland with short hair in a near forward facing angle. Inscriptions around the design are "GROVER CLEVELAND," "IN GOD WE TRUST," "22nd PRESIDENT" and "1885-1889."
The reverse, which is the same for every coin in the program, features the Statue of Liberty. Inscriptions on the reverse are "UNITED STATES OF AMERICA," and "$1."
The edges of the dollars are incused with "2012," "E PLURIBUS UNUM," and the mint mark, either "P" for Philadelphia or "D" for Denver.
Order $1 Coin Products Directly from US Mint
2012 Grover Cleveland First Term Presidential $1 coin products are available from the Mint's online store through this page.
Orders may also be placed by calling 1-800-USA-MINT (872-6468). Hearing and speech-impaired customers may call 1-888-321-MINT (6468). There are no household ordering limits. A $4.95 shipping and handling fee applies to all domestic orders.
United States Mint Products Containing Cleveland Dollar
Cleveland Presidential $1 Coins with either collector proof or uncirculated finishes are available in the following numismatic offerings:
2012 Presidential $1 Coin Proof Set (released April 24)
2012 Presidential $1 Coin Uncirculated Set (released May 1)
2012 Proof Set (released May 7)
2012 Uncirculated Mint Set (released May 21)
2012 Silver Proof Set (coming June 4)
2012 Grover Cleveland $1 Coin Cover (coming June 19)
2012 Presidential $1 Four-Coin Sets (coming June 26)
2012 Cleveland Presidential $1 Coin & First Spouse Medal Set (TBD)
Grover Cleveland Bio Brief
As mentioned earlier, Grover Cleveland served two terms that were non-consecutive, and he has been the only President to do it. The democrat's first term as the 22nd President lasted between 1885 and 1889, and then republican Benjamin Harrison held the office for the next four years. Cleveland ran against Harrison in 1892 and won, so his second term as the 24th President was from 1893 through 1897.
Long before Cleveland entered the White House, he was a lawyer in Buffalo, New York. He lost his run for District Attorney, but it was not long before he propelled himself into several offices, including Sheriff and then Mayor of Buffalo, and finally Governor of New York from 1883 to 1885.
By the time he moved to Washington, D.C., he built a solid record for reform and fiscal conservatism and he continued it as President. During his first administration, he vetoed bills that would distribute federal aid to farmers and veterans, and he ordered an investigation of railroads followed by an attempt to regulate them.