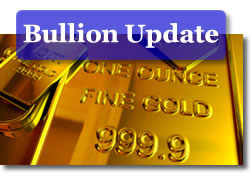 Gold declined modestly for a second day Tuesday. Volume was again light as investors await the results of the monthly FOMC policy meeting.
"Gold is fairly priced at $1,620, $1,630 an ounce … and everyone is waiting to see what the Federal Reserve is going to say," MarketWatch quoted James Cordier, a portfolio manager with Optionsellers.com in Florida.
Gold prices for August delivery declined $3.80, or 0.2%, to settle at $1,623.20 an ounce on the Comex in New York. Prices moved between intraday ranges of $1,618.10 and $1,634.30. The Fed will release its policy statement on Wednesday.
"Gold has shown itself to be very sensitive to shifts in expectations of U.S. monetary policy. If the Fed states that it is prepared to ease policy further if the economy should weaken, this may be sufficient to support gold prices," Reuters quoted James Steel, chief commodity analyst at HSBC.
In other New York futures on Tuesday:
Silver prices for July delivery settled down 30.3 cents, or 1.1%, to $28.368 an ounce. Silver traded between $28.270 and $28.900.

Platinum prices for July delivery closed to $1,484.10 an ounce, falling $3.60 or 0.2%. Platinum ranged from a low of $1,478.00 to a high of $1,492.60.

Palladium prices for September delivery declined $3.75, or 0.6%, to $629.40 an ounce, trading between $625.40 and $635.90.
London Precious Metals
Earlier fixed London precious metals moved opposite of later futures closings in New York. When comparing the latest London PM fixings:
Gold added $10.00, or 0.6%, to $1,625.50 an ounce,
Silver advanced 38.0 cents, or 1.3%, to $28.81 an ounce,
Platinum gained $2.00, or 0.1%, to $1,486.00 an ounce, and
Palladium tacked on $6.00, or 1.0%, to $634.00 an ounce
Sales of U.S. Mint Bullion Coins
Each of the U.S. Mint's major bullion coins advanced Tuesday. The Silver Eagle gained the most with a sales increase of 338,500, and that lifted the 99.9% fine silver coin over the 16 million milestone for the year. Its monthly total also moved past April and February. The bureau also sold 1,300 more of its five ounce America the Beautiful Silver Coins.
In gold bullion, U.S. Mint sales of the 24-karat Gold Buffalo went up 500 and its one-ounce, 22-karat Gold Eagle advanced 3,500.
The following are the latest daily, June and year-to-date bullion coin sales totals as published by the U.S. Mint.
Sales of US Mint American Eagle and Buffalo Bullion Coins
Daily Gains
June Gains
YTD 2012
$50 American Eagle Gold Coins
3,500
24,000
254,000
$25 American Eagle Gold Coins
0
1,000
55,000
$10 American Eagle Gold Coins
0
2,000
48,000
$5 American Eagle Gold Coins
0
5,000
155,000
$50 American Buffalo Gold Coins
500
5,000
70,000
American Eagle Silver Coins
338,500
1,700,000
16,234,000
Sales of America the Beautiful 5 Oz. Bullion Silver Coins
Daily Gains
June Gains
All-Time Total
2012 El Yunque National Forest 5 oz. Bullion Silver Coins
1,300
4,300
9,700
2011 Olympic National Park 5 oz. Bullion Silver Coins
0
0
85,200
2011 Vicksburg National Military Park 5 oz. Bullion Silver Coins
0
200
38,600
2011 Chickasaw Park 5 oz. Bullion Silver Coins
0
0
28,900
TOTAL
0
4,500
162,400
Above sales of U.S. Mint bullion coins are in coin totals, not the amount of ounces sold.