The Royal Canadian Mint is pleased to introduce beautifully designed and exquisitely crafted collector coins which continue to capture the spirit and excitement of the many milestones and anniversaries Canadians are celebrating in 2012.
"The world's greatest sporting events and our wonderfully diverse heritage continue to offer the Mint new and exciting ways to reflect the pride of Canadians in celebrating their culture, their national symbols and their history through unforgettable collector coins," said Ian E. Bennett, President and CEO of the Royal Canadian Mint.
The Mint's newest offering of 2012 collector coins includes:
the 100th anniversary of the Calgary Stampede, immortalized in five-ounce pure gold and silver coins, as well as colorful 25-cent cupronickel coin and stamp set;
a $1 fine silver painted coin honouring the 25th anniversary of the Canadian Loonie;
a new fine silver "Lucky Loonie" coin minted in honour of our athletes competing at the London 2012 Summer Games;
Bill Reid's Spirit of Haida Gwaii featured on our first-ever five-kilo fine silver coin;
the newest issue from our vibrant $5 silver and niobium coin series featuring the Full Pink Moon; and
a 2012 gold fractional coin set celebrating the Year of the Dragon.
The following describes the newest Mint products now available to the public.
2012 Calgary Stampede 100th Anniversary Gold and Silver Coins
In 1912, working cowboy and trick roper Guy Weadick, inspired by the traveling wild-west shows that enjoyed world-wide popularity in the early 1900s, convinced four local ranchers to help him produce the first "Frontier Days and Cowboy Championship Contest", soon to be christened the Calgary Stampede.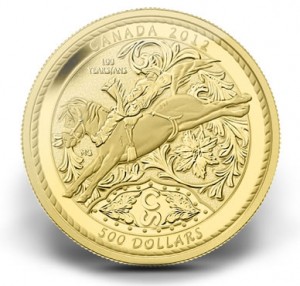 After 100 years, Calgary, Alberta remains home to "the greatest outdoor show on earth", which has welcomed millions of visitors and dignitaries from all over Canada and the world in a unique celebration of the romance and culture of the old west.
The action and excitement which made the Stampede famous is captured in stunning new 5 ounce, 99.99% pure gold and silver coins which celebrate the most iconic imagery of western culture: the bucking bronco; the rodeo rider and the intricate scrolling embellishments of classic leather saddle design.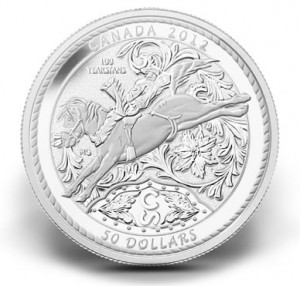 All these elements combine to immortalize a legendary horse named Grated Coconut, a current star of the Stampede with six Bareback Horse of the Year awards to its name. The trademark "CS" of the Stampede and the key date of 1912 complete this tribute to 100 thrilling years of Calgary Stampede history.
Designed by Calgary-based western artist Michelle Grant, these beautiful proof coins will appeal to serious rodeo enthusiasts and coin collectors alike, who can also look forward to one more new coin as the 100th Calgary Stampede approaches.
With only 200 gold and 1,500 silver coins available world-wide, these very exclusive coins retail for $11,999.95 CAD and $495.95 CAD respectively.
Visit Mint gold coin page for details.
Visit Mint silver coin page for details.
2012 25-Cent Calgary Stampede 100th Anniversary Coin & Stamp Set
Millions in Canada and around the world prize souvenirs of The Greatest Outdoor Show on Earth and in 2012, few things remember the Stampede better than a vividly painted Royal Canadian Mint collector coin combined with a pair of Canada Post commemorative stamps featured in a folder celebrating the colourful 100-year history of the Calgary Stampede.
Echoing the style of an old-time rodeo poster, the reverse design of the Mint's oversized 25-cent cupronickel coin features a dauntless cowboy riding for rodeo glory on the back of a bucking bronco. The skyline of Calgary and the Canadian Rockies framed in this scene created by artist Tony Bianco capture the picturesque home of the 100 year-old Calgary Stampede.
Canada Post's domestic and US mail rate stamps respectively feature classic western riding gear and the silver belt buckle awarded to Stampede champions. These are also Canada Post Corporation's first augmented reality stamp. Buyers of this product exciting and interactive product can see these stamps in a new light by downloading the Stamps Alive app from canadapost.ca/stampsalive.
Customers eager to collect a colourful and affordable memento of the 100th Calgary Stampede should hurry to corral this 2012 25-cent Coloured Coin and Stamp Set, as limited quantities are available at the retail price of $25.95 CAD.
Canada Post outlets in Calgary and across Canada are carrying this exciting collectible, in addition to a national and international network of official Royal Canadian Mint distributors.
Visit Mint information page for details.
2012 $1 Two Loons Silver Coin
After producing more than a billion one-dollar circulation coins in support of Canadian commerce since June 29, 1987, the Mint has chosen to mark the 25th anniversary of the iconic Loonie with a unique 99.99% pure silver collector coin.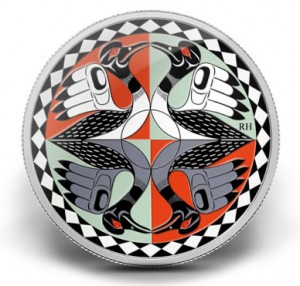 The Loon design has graced the reverse of this pillar of Canada's coinage since its elegant illustration by Robert Ralph Carmichael first appeared on the coin which replaced the Canadian one-dollar bank note in 1987. This cherished symbol of Canadian identity is re-born in bold lines and colours by First Nations artist Richard Hunt's Two Loons, captured on a fine silver one-ounce proof coin.
No text appears on the reverse of this coin, allowing a captivating image in red, black, white and green to stir the imagination as each person to collect this coin admires the grace and majesty of two Common Loons and their watery reflections.
Limited to a mintage of only 10,000 coins, this boldly designed collectible retails for $109.95 CAD. The public can also look forward to a new anniversary-themed coin soon before Canada's Loonie officially turns 25 on June 30, 2012.
Visit Mint information page for details.
2012 $1 Lucky Loonie Silver Coin
Another special homage to the Loon takes flight with the Mint's newest edition of the Fine Silver Lucky Loonie. In keeping alive the recent tradition of wishing Canada's athletes good luck at Olympic and Paralympic Games with special collector and circulation versions of our iconic one-dollar coins, a 99.99% pure silver coin with a new loon image by Canadian artist Emily S. Damstra has been minted in support of our teams competing at this summer's London 2012 Games.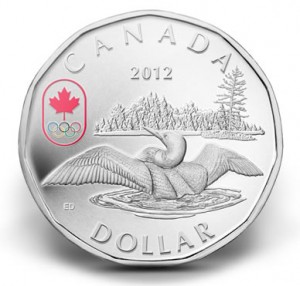 This unique take on the original loon design of Canada's 1-dollar circulation coin features a rear view of the Common Loon as it spreads its wings in a territorial display. As it ripples the lake's waters, the loon faces a lake shore densely wooded with the Canadian boreal forest's characteristic mix of evergreen and deciduous trees.
This proof finish silver Lucky Loonie is also enhanced by a painted Canadian Olympic Team logo. Limited to a mintage of 20,000 coins, this lucky keepsake retails for $39.95 CAD.
Visit Mint information page for details.
2012 $500 Spirit of Haida Gwaii Silver Coin
After capturing the legendary forms of Bill Reid's Spirit of Haida Gwaii in revealing the world's first 10-kilo 99.999% pure gold coin in 2011, the Royal Canadian Mint is excited to revisit this celebrated masterpiece of native Canadian art in a five-kilo, 99.99% pure silver coin.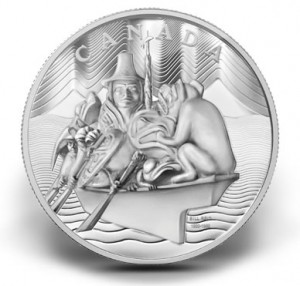 The Mint's first ever silver coin in this impressive scale beckons the attention of both art lovers and coin collectors with dramatic ultra-high reliefs evoking the boldness of the massive sculpture commissioned in 1985 for the Canadian Embassy in Washington, D.C.
This stirring tribute to this cultural icon is hand-polished to perfection in a proof finish and limited to 100 coins world-wide. Proudly Canadian in every way, the design and the production of this coin, its elegant collector's box crafted of Canadian walnut wood, and the coin's certificate in a rich book format are all domestically developed and produced.
This fine silver sensation is available for the retail price of $9,999.95 CAD.
Visit Mint information page for details.
2012 $5 Full Pink Moon Silver and Niobium Coin
The Mint is closing out its series of $5 sterling silver and niobium coins celebrating the ancient tradition of the full moons of the Algonquin with a fourth and final issue featuring The Full Pink Moon.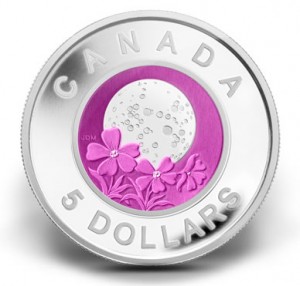 The Mint's innovative series of selectively anodized silver and niobium coins has vividly captured the inspiring story of the Algonquin people's incorporation of cultural and natural symbols to identify the seasonal moon phases. In recounting the final chapter of that timeless tale, the Mint has illustrated the full moon of April; the month of new life.
Known to the Algonquin culture as the Full Pink Moon for the bright pink blooms of Phlox flowers which carpet the landscape in springtime, the Mint has created a stunning pink effect in the niobium inserts on the reverse of this coin.
Preceded by The Buck; The Hunter; and The Wolf; this coin, as well as all others in this series, was designed by artist John Mantha.
Only 7,500 Full Pink Moon coins, each retailing for $121.95 CDN, are available world-wide.
Visit Mint information page for details.
2012 Year of the Dragon Gold Fractional Coin Set
The majesty of the highly anticipated Year of the Dragon has been exquisitely expressed on a variety of Royal Canadian Mint precious metal coins and in response to continuing demand for exclusive keepsakes of this momentous year, the Mint is introducing a very exclusive set of 99.99% pure gold coins in fractional sizes.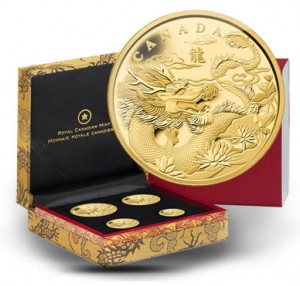 Ranging in sizes of one ounce, a half-ounce, a quarter-ounce and a tenth-ounce, this exotic coin set features the work of Three Degrees Creative Group of Vancouver, BC, whose stunning rendering of a mythical dragon surrounded by lotus flowers and clouds of good fortune has already embellished previous examples of the Mint's pure gold and silver kilo coins.
Packaged in an Asian-inspired golden silk-covered collector box, this highly exclusive coin set is limited to only 500 examples world-wide, and retails for $5,499.95 CAD.
Visit Mint information page for details.
All of the Mint's products are available directly from the Mint at 1-800-267-1871 in Canada, 1-800-268-6468 in the US, or on the Internet at www.mint.ca.
The coins are also available at the Royal Canadian Mint's boutiques in Ottawa, Winnipeg and Vancouver, as well as through our global network of dealers and distributors, including participating Canada Post outlets.
About the Royal Canadian Mint
The Royal Canadian Mint is the Crown Corporation responsible for the minting and distribution of Canada's circulation coins. An ISO 9001-2008 certified company, the Mint is recognized as one of the largest and most versatile mints in the world, offering a wide range of specialized, high quality coinage products and related services on an international scale. For more information on the Mint, its products and services, visit www.mint.ca.