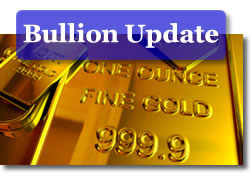 Gold on Tuesday rose for a third straight session and silver for its second as safe-haven demand broadened.
"Spain, Italy and Greece are the three reasons why gold should become more attractive because there is a lot of fear out there about what could happen next," Reuters quoted Bill O'Neill, partner of LOGIC Advisors, a commodities-focused wealth manager.
Gold prices for August delivery closed to $1,613.80 an ounce on the Comex in New York, gaining $17.00 or 1.1%. Gold traded between an intraday low of $1,586.40 and a high of $1,618.90. Stimulus expectations were also cited as a reason for gains in gold.
"The market is expecting more stimulus, and that is supportive of gold," Phil Streible, a senior commodity broker at R.J. O'Brien & Associates in Chicago, said in a telephone interview that was recounted on Bloomberg.
In other precious metals closings on Tuesday:
Silver prices for July delivery settled up 33.3 cents to $28.949 an ounce, traversing through the day between $28.315 and $29.050.

Platinum prices for July delivery closed at $1,454.40 an ounce, up $5.10 or 0.4%. Platinum ranged from $1,423.90 to $1,456.70.

Palladium was the lone precious metal to slip on the day, albeit modestly. Palladium prices for September delivery declined 90.0 cents, or 0.1%, to $624.25 an ounce, trading between $615.05 and $626.25.
London Precious Metal
Earlier fixed London precious metals were mixed. When comparing the most recent London PM fixings:
Gold added $19.50, or 1.2%, to $1,603.50 an ounce,
Silver lost 9.0 cents, or 0.3%, to $28.54 an ounce,
Platinum slipped $9.00, or 0.6%, to $1,443.00 an ounce, and
Palladium climbed $1.00, or 0.2%, to $624.00 an ounce
Sales of U.S. Mint Bullion Coins
Sales increased Tuesday for the U.S. Mint's two most popular bullion coins. The American Silver Eagle rose 25,000 and the one-ounce American Gold Eagle added 2,000. The following are the latest daily, June and year-to-date bullion coin sales totals as published by the U.S. Mint.
Sales of US Mint American Eagle and Buffalo Bullion Coin
Daily Gains
June Gains
YTD 2012
American Gold Eagle Coins (1 oz.)
2,000
15,000
245,00
American Gold Eagle Coins (1/2 oz.)
0
1,000
55,000
American Gold Eagle Coins (1/4 oz.)
0
0
46,000
American Gold Eagle Coins (1/10 oz.)
0
5,000
155,000
American Gold Buffalo Coins (1 oz.)
0
2,000
67,000
American Silver Eagle Coins
25,000
921,500
15,455,500
Sales of America the Beautiful 5 Oz. Silver Bullion Coins
Daily Gains
June Gains
All-Time Total
2012 El Yunque National Forest 5 oz. Silver Bullion Coins
0
1,500
6,900
2011 Olympic National Park 5 oz. Silver Bullion Coins
0
0
85,200
2011 Vicksburg National Military Park 5 oz. Silver Bullion Coins
0
200
38,600
2011 Chickasaw Park 5 oz. Silver Bullion Coins
0
0
28,900
TOTAL
0
1,700
160,600
U.S. Mint figures above are in coin totals, not the amount of ounces sold.