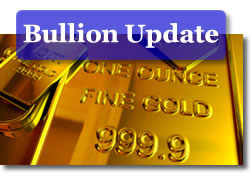 Gold on Monday gave back some of its prior session gains as investors cashed in on profits, opined analysts. On Friday, gold soared $57.90 to score a 3.4% weekly gain.
After gold's rally to end the week, "a breather for the next few days to digest those gains would be normal," MarketWatch quoted Vedant Mimani, lead portfolio manager of the Atyant Capital Global Opportunities Fund, a precious metals-focused fund based in Miami. "Traders will be quick to take some profits because of the volatility we have seen in recent months."
Gold prices for August delivery settled down $8.20, or 0.5%, to $1,613.90 an ounce on the Comex in New York. Prices moved from an intraday low of $1,610.00 to a high of $1,629.70.
In other precious metals closings Monday:
Silver prices for July delivery sank 50.5 cents, or 1.8%, to $28.007 an ounce. Silver bracketed respective low and high prices of $27.955 and $28.680.

Platinum prices for July delivery retreated $5.90, or 0.4%, to $1,427.30 an ounce, ranging from $1,423.20 to $1,449.00.

Palladium prices for September delivery declined 10.0 cents to $613.90 an ounce, trading between $605.75 and $616.45.
Each of the metals advanced last week with gains of 0.4% for silver, 0.5% for platinum and 4.1% for palladium.
London Precious Metal
UK markets were closed Monday in observance of the Spring Bank Holiday. London precious metals fixings were unchanged as a result. Friday fixings were:
Gold at $1,606.00 an ounce,
Silver at $27.38 an ounce,
Platinum at $1,407.00 an ounce, and
Palladium at $607.00 an ounce
Last week, London gold rose 2.3% and palladium added 2.9% while silver declined 3.0% and platinum shed 1.1%.
U.S. Mint Bullion Coin Sales
Sales levels for U.S. Mint bullion coins were unchanged Monday as of 4:21 PM ET. The following are the daily, June and year-to-date bullion coin sales totals as published by the bureau.
U.S. Mint American Eagle and Buffalo Bullion Coin Sales
Daily Gains
June Gains
YTD 2012
American Eagle Gold Coin (1 oz.)
0
0
230,000
American Eagle Gold Coin (1/2 oz.)
0
0
54,000
American Eagle Gold Coin (1/4 oz.)
0
0
46,000
American Eagle Gold Coin (1/10 oz.)
0
0
150,000
American Gold Buffalo Coin (1 oz.)
0
0
65,000
American Eagle Silver Coin
0
0
14,534,000
America the Beautiful 5 Oz. Silver Bullion Coin Sales
Prior Weekly
Weekly Gains
June Gains
All-Time Total
2012 El Yunque National Forest 5 oz. Silver Coin
5,400
0
0
5,400
2011 Olympic National Park 5 oz. Silver Coin
100
0
0
85,200
2011 Vicksburg National Military Park 5 oz. Silver Coin
100
0
0
38,400
2011 Chickasaw Park 5 oz. Silver Coin
0
0
0
28,900
TOTAL
5,600
0
0
157,900
U.S. Mint figures above are in coin totals, not the amount of ounces sold.