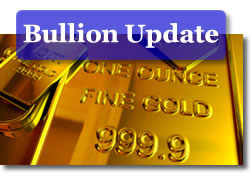 Gold soared on Friday and consequently for the week as the release of dismal U.S. jobs data fuelled expectations of further monetary stimulus from the Federal Reserve.
Gold prices rallied 3.4% higher than last Friday due to the near $58 jump-start for June. Weekly advances in other precious metals were 0.4% for silver, 0.5% for platinum and 4.1% for palladium.
"Two months of disappointing jobs numbers implies a trend," MarketWatch quoted Brien Lundin, editor of Gold Newsletter.

"Two months of numbers this horrendous screams that a significant downturn is underway, and puts the QE3 theme front and center…

The speculators are starting to salivate over the next round of quantitative easing that will be served up to the markets," he said. "Gold has been the first to react to this prospect."
U.S. employers added 69,000 jobs in May, the fewest in a year and less than half of the amount most economists had expected. The unemployment rate also rose 8.2% from 8.1% in April.
On Friday, gold prices for August delivery leapt $57.90, or 3.7%, to $1,622.10 an ounce on the Comex in New York. Gold traded between an intraday low of $1,545.50 and a high of $1,632.00.
In the previous session, gold traded down 0.1% to log a 6% loss in May.
Gold Prices Again Expected Higher Next Week
Majority participants in new gold surveys conducted by Kitco and Bloomberg are again bullish for prices next week.
"In the Kitco News Gold Survey, out of 33 participants, 22 responded this week. Of those 22 participants, 20 see prices up, while two see prices down, and zero are neutral," reports Kitco.

"Many participants said the shakiness in the outlook for the global economy will ramp up expectations for some sort of quantitative easing from the Federal Reserve or other central banks…

Those who see weakness in gold said the problems in Europe are likely to fester and that could eventually weigh on the metal, as it has in the past."
In other precious metals settlements Friday:
Silver prices for July delivery jumped 75.5 cents, or 2.7%, to settle at $28.512 an ounce. Silver ranged from $27.170 to $28.680. The white metal on Thursday traded down 0.8% to end May 10.0% lower.

Platinum prices for July delivery gained $15.60, or 1.1%, to $1,433.20 an ounce, trading between $1,388.80 and $1,447.60.

Palladium prices for September delivery edged up 10.0 cents, or less than 0.1%, to $614.00 an ounce, ranging from $597.15 to $617.95.
The latest precious metals advances not only lifted each of them into the black for the week but brought two back up for 2012. Those were gold and silver with respective year-to-date increases of 3.5% and 2.1%. Platinum enhanced its 2012 pick-up which is now 2.0%. Palladium remains the loner this year with a loss of 6.4%.
London Precious Metal
London precious metals were mixed ahead of the U.S. payrolls data which rallied U.S. metal prices. When comparing the most recent London PM Fix prices:
Gold advanced $48.00, or 3.1%, to $1,606.00 an ounce,
Silver declined 72.0 cents, or 2.6%, to $27.38 an ounce,
Platinum added $2.00, or 0.1%, to $1,407.00 an ounce, and
Palladium lost $4.00, or 0.7%, to $607.00 an ounce
In weekly London fixings, gold gained 2.3% and palladium rose 2.9% while silver fell 3.0% and platinum declined 1.1%.
U.S. Mint Bullion Coin Sales
No gains in American Eagle or Buffalo coins were reported by the U.S. Mint for Friday but finalized sales totals were updated for May, and they soundly rebounded from the previous month.
In 99.9% fine silver bullion coin sales, the American Silver Eagle stepped up with an 89.1% increase in May from April. Sales finished at 2,875,000 for the second best monthly total in 2012 with:
April at 1,520,000;
March at 2,542,000;
February at 1,490,000; and
January at 6,107,000.
In 22-karat gold bullion coin sales, American Gold Eagles reached 53,000 ounces in May to mark a 165.0% improvement over April. Previous monthly totals in ounces were:
April at 20,000;
March at 62,500;
February at 21,000; and
January at 127,000.
And in 24-karat gold bullion coin sales, the American Gold Buffalo hit 9,500 ounces to wrap up a 5.6% monthly increase. Past sales in ounces include:
9,000 in April;
26,000 in March;
7,000 in February; and
13,500 in January.
The following are the daily, May, June and year-to-date bullion coin sales totals — in numbers of coins sold, not ounces — as published by the U.S. Mint.
U.S. Mint American Eagle and Buffalo Bullion Coin Sales
Prior Weekly
Weekly Gain
May Gains
Daily/June Gains
YTD 2012
American Eagle Gold Coins (1 oz.)
8,500
5,000
49,000
0
230,000
American Eagle Gold Coins (1/2 oz.)
3,000
0
3,000
0
54,000
American Eagle Gold Coins (1/4 oz.)
4,000
0
4,000
0
46,000
American Eagle Gold Coins (1/10 oz.)
10,000
0
15,000
0
150,000
American Gold Buffalo Coin (1 oz.)
2,500
1,500
9,500
0
65,000
American Eagle Silver Coins
812,500
522,500
2,875,000
0
14,534,000
In concluding bullion sales, U.S. Mint distributors this week ordered 5,600 of the ATB 5 Ounce Silver Bullion Coins. 200 of that number came earlier in the week which turned out to be the May tally as well. A 5,400 pick-up occurred on Friday which marked the first sales of a 2012-dated issue.
America the Beautiful 5 Oz. Silver Bullion Coin Sales
Prior Weekly
Weekly Gains
May Gains
June Gains
All-Time Total
2012 El Yunque National Forest 5 oz. Silver Coins
N/A
5,400
N/A
5,400
5,400
2011 Olympic National Park 5 oz. Silver Coins
0
100
100
0
85,200
2011 Vicksburg National Military Park 5 oz. Silver Coins
0
100
100
0
38,400
2011 Chickasaw Park 5 oz. Silver Coins
0
0
0
0
28,900
TOTAL
0
200
200
5,400
157,900