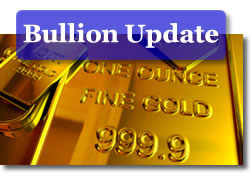 Gold prices declined Tuesday following the U.S. holiday-extended weekend and after two straight session increases.
The yellow metal gave back all but 30 cents of those prior-day gains as the U.S. dollar rallied Tuesday after credit agency Egan-Jones downgraded Spain's debt.
"Whether it's Greece leaving the euro or Spain being next in line for a bailout, investors are focusing on the crisis in Europe at the moment and picking the dollar as their haven of choice," Bloomberg quoted Sun Yonggang, an analyst at Everbright Futures Co., a unit of China's largest state-owned investment group.
Gold prices for June delivery fell $20.20, or 1.3%, to $1,548.70 an ounce on the Comex in New York. Gold touched an intraday low of $1,545.70 and reached a high of $1,583.50.
"That trade which is directly tied to the euro weakness, and has made gold so significantly volatile, is going to have a short-term negative impact on gold," Reuters quoted Jeffrey Sica, chief investment officer of SICA Wealth Management LLC.

"People are trading out of gold based on the euro weakness, but they will buy back into gold based on fear," said Sica, who manages $1 billion in client assets.
Gold prices last week fell 1.4%. Tuesday's loss placed the yellow metal down $18.10, or 1.2%, for the year.
In other futures precious metals settlements Tuesday:
Silver prices for July delivery declined 59.5 cents, or 2.1%, to $27.791 an ounce. Silver traded between $27.710 and $28.760.

Platinum prices for July delivery advanced $1.60, or 0.1%, to $1,428.10 an ounce, ranging from $1,423.40 to $1,449.00.

Palladium prices for September delivery — the new most active contract — surged $14.20, or 2.4%, to $606.05 an ounce. Palladium moved between $591.50 and $616.00.
All three precious metals declined last week with losses of 1.1% for silver, 2.2% for platinum and 2.3% for palladium..
London Precious Metal
London precious metals were mixed Tuesday after across the board gains on Monday. When comparing the most recent London PM fixings:
Gold prices advanced $4.90, or 0.3%, to $1,579.50 an ounce,
Silver declined 27.0 cents, or 0.9%, to $28.25 an ounce,
Platinum fell $3.00, or 0.2%, to $1,435.00 an ounce, and
Palladium added $7.00, or 1.2%, to $608.00 an ounce
U.S. Mint Bullion Sales
U.S. Mint distributors scooped up more one-ounce gold and silver coins on Tuesday, according to the bureau's latest reported bullion figures.
Advancing the most were American Eagle silver coins. Gaining 397,500 on the day lifted May sales to 2.75 million. Continued weakness in silver prices has strengthened Eagle demand. The Silver Eagles were at a mere 510,000 through the first 13 days of the month. Sales this month have since passed each of the three previous months to fall right behind the 6.107 million sold in January — the second best monthly total in the coin's 26-year history. Sales this month have already improved over April by 1.23 million or 80.9%.
The following are the daily, May and year-to-date bullion coin sales totals as provided by the U.S. Mint.
U.S. Mint American Eagle and Buffalo Bullion Coin Sales
Daily Gains
May Gains
YTD 2012
American Eagle Gold Coins (1 oz.)
2,000
46,000
227,000
American Eagle Gold Coins (1/2 oz.)
0
3,000
54,000
American Eagle Gold Coins (1/4 oz.)
0
4,000
46,000
American Eagle Gold Coins (1/10 oz.)
0
15,000
150,000
American Gold Buffalo Coin (1 oz.)
500
8,500
64,000
American Eagle Silver Coins
397,500
2,352,500
14,409,000
Sales of Bullion America the Beautiful 5 Oz. Silver Coins
Prior Weekly
Weekly Gains
All-Time Total
Olympic National Park 5 oz. Silver Coins
0
100
85,200
Vicksburg National Military Park 5 oz. Silver Coins
0
100
38,400
Chickasaw Park 5 oz. Silver Coins
0
0
28,900
TOTAL
0
200
152,500
All bullion coin sales in the above tables are in number of coins, not in the amount of ounces sold.