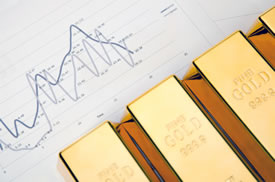 Gold and silver added to their previous day's loss, each falling 0.5% during the mid-week session. Platinum and palladium extended their losing streaks to three days. Precious metals and U.S. stocks remained under pressure while the U.S. dollar traded higher.
Gold for December delivery declined $7.80 to $1,701.60 an ounce on the Comex in New York. The settlement price was the lowest since September 5. Intraday prices ranged between $1,698.90 and $1,715.20.
"Both gold and silver are falling in tandem with the global financial markets and oil… This reflects a downturn in growth globally," wrote Julian Phillips, founder and writer at GoldForecaster.com, in a report.
The yellow metal did pare losses in after-hours trading when the Fed announced that it was staying the course with its stimulus plan.
"The committee remains concerned that, without sufficient policy accommodation, economic growth might not be strong enough to generate sustained improvement in labor market conditions," the FOMC said Wednesday in its monthly monetary policy statement. "Furthermore, strains in global financial markets continue to pose significant downside risks to the economic outlook," it added.
Silver for December delivery closed at $31.620 an ounce, dipping 17.3 cents. Prices ranged between $31.535 and $32.055.
Platinum for January delivery lost $12.90, or 0.8%, to $1,562.70 an ounce, trading between $1,553.50 and $1,586.10.
Palladium for December slipped $1.10, or 0.2%, to $592.75 an ounce, trading between $587.65 and $602.90.
London Bullion Prices
London precious metals were mixed, with platinum staying unchanged at $1,577.00 an ounce. When comparing the most recent London PM fixings across the other metals:
Gold declined $4.50, or 0.3%, to $1,706.50 an ounce,
Silver climbed 24.0 cents, or 0.8%, to $31.95 an ounce,
Palladium shed $1.00, or 0.2%, to $600.00 an ounce
U.S. Mint Bullion Coin Sales in October
Sales levels for U.S. Mint bullion coins remained unchanged Wednesday following two prior days of respectable gains. The following table provides the most recent daily, October and year-to-date bullion sales figures as published by the U.S. Mint.
Sales of US Mint American Eagle and Buffalo Bullion Coins
Daily Sales
October Sales
YTD 2012
$50 American Eagle Gold Coins
0
44,500
455,000
$25 American Eagle Gold Coins
0
1,000
62,000
$10 American Eagle Gold Coins
0
4,000
66,000
$5 American Eagle Gold Coins
0
25,000
275,000
$50 American Buffalo Gold Coins
0
10,000
106,500
American Eagle Silver Coins
0
2,584,000
28,379,000
In related U.S. Mint coin news, the bureau did reduce coin prices Wednesday for its collectible platinum and gold products, including uncirculated and proof American Gold Eagles, as a result of lower precious metals prices.
Sales of America the Beautiful 5 Oz. Silver Bullion Coins
Daily Sales
October Sales
All-Time Total
2012 El Yunque National Forest 5 oz. Silver Bullion Coins
0
0
17,900
2012 Chaco Culture National Historical Park 5 oz. Silver Bullion Coins
0
1,000
18,200
2012 Acadia National Park 5 oz. Silver Bullion Coins
0
2,500
20,500
2012 Hawai'i Volcanoes 5 oz. Silver Bullion Coins
0
3,300
13,700
2012 Denali National Park 5 oz. Silver Bullion Coins
0
5,500
5,500
2011 Olympic National Park 5 oz. Silver Bullion Coins
0
0
85,900
2011 Vicksburg National Military Park 5 oz. Silver Bullion Coins
0
0
39,500
2011 Chickasaw Park 5 oz. Silver Bullion Coins
0
0
29,700
TOTAL
0
12,300
230,900