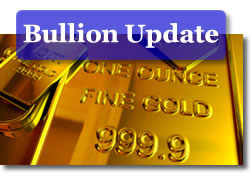 Gold advanced more than $9 Thursday, bucking a three-day losing streak in which prices pulled back $43.30 to below $1,550 an ounce.
"Reports about central banks buying are helping gold," Frank McGhee, the head dealer at Integrated Brokerage Services LLC in Chicago, said in a telephone interview that was relayed on Bloomberg. "We are also seeing some technical buying."
Gold prices for June delivery gained $9.10, or 0.6%, to $1,557.50 an ounce on the Comex in New York. Prices traded between an intraday low of $1,551.00 and a high of $1,577.70.
In other precious metals closings on Thursday:
Silver prices for July delivery jumped 63.8 cents, or 2.3%, to $28.157 an ounce. Silver moved between $27.585 and $28.515.

Platinum prices for July delivery advanced $8.30, or 0.6%, to $1,422.40 an ounce, ranging from $1,412.50 to $1,435.20.

Palladium prices for June delivery declined $3.60, or 0.6%, to $587.50 an ounce, trading between $584.25 and $600.50.
London Precious Metal
Precious metals were mixed in London as well. When comparing the most recent London PM fixings:
Gold advanced $19.50, or 1.3%, at $1,568.50 an ounce,
Silver added 32.0 cents, or 1.2%, to $28.08 an ounce,
Platinum edged up $1.00, or 0.1%, at $1,431.00 an ounce, and
Palladium declined $7.00, or 1.2%, to $600.00 an ounce
U.S. Mint Bullion Coins
Sales improved Thursday for each of the U.S. Mint's one ounce bullion coins.
In the 24-karat gold arena, American Buffalo gold coins added 1,000 to settle at 8,000 for May. Another such gain will match its sales total from the previous month.
As for 22-karat gold bullion, the one ounce American Eagle gold coin jumped 4,000 to 44,000 for the month. May sales have more than doubled those from April.
In 99.9% silver bullion, the American Eagle silver coin rallied 160,000, its second biggest gain of the week and its third increase in the last four days. The Silver Eagle is sitting with May sales of 2,277,500, which is 757,500 above the prior month.
The following are the available daily, May and year-to-date bullion coin sales totals as reported by the U.S. Mint.
U.S. Mint American Eagle and Buffalo Bullion Coin Sales
Daily Gains
May Gains
YTD 2012
American Eagle Gold Coins (1 oz.)
4,000
44,000
225,000
American Eagle Gold Coins (1/2 oz.)
0
3,000
54,000
American Eagle Gold Coins (1/4 oz.)
0
4,000
46,000
American Eagle Gold Coins (1/10 oz.)
0
15,000
150,000
American Gold Buffalo Coin (1 oz.)
1,000
8,000
63,500
American Eagle Silver Bullion Coins
160,000
2,277,500
13,936,500
America the Beautiful 5 Oz. Silver Bullion Coin Sales
Prior Weekly
Weekly Gains
All-Time Total
Olympic National Park 5 oz. Silver Coins
0
0
85,100
Vicksburg National Military Park 5 oz. Silver Coins
0
0
38,300
Chickasaw Park 5 oz. Silver Coins
0
0
28,900
TOTAL
0
0
152,300
All bullion coin sales in the above tables are in number of coins, not in the amount of ounces sold. The U.S. Mint last updated five ounce bullion silver coins sold on Monday, April 9, indicating none have sold since.