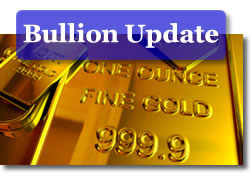 Gold fell Tuesday and for a second straight day as investors turned their attention from it toward the U.S. dollar and U.S. stocks.
"The strong dollar and lower oil and commodity prices appear to be pressuring gold lower," MarketWatch quoted Mark O'Byrne, executive director at GoldCore. "Increased risk appetite as seen in the surge in equity indices may also be leading to lower gold prices."
Gold prices for June delivery declined $12.10, or 0.8%, to $1,576.60 an ounce on the Comex in New York. Gold moved between an intraday low of $1,572.00 and a high of $1,594.40. After rising 0.5% last week, gold prices so far this week have dropped $15.30 or 1.0%.
Silver, Platinum and Palladium Futures Prices
In other precious metals closings on Tuesday:
Silver prices for July delivery settled down 14.2 cents, or 0.5%, to $28.179 an ounce. Silver bracketed intraday low and high levels of $27.975 and $28.755.

Platinum prices for July delivery fell $3.10, or 0.2%, to $1,458.40 an ounce, ranging from $1,451.10 and $1,474.00.

Palladium bucked the trend of other precious metals. Palladium prices for June delivery advanced $4.75, or 0.8%, to $615.55 an ounce, trading between $607.00 and $616.60.
In regards to silver prices, Jim Wyckoff of Kitco News writes about the near-term technical aspects for the white metal in the Tuesday Kitco Metals Roundup:
"July silver futures prices closed nearer the session low again Tuesday. Silver prices are in an 11-week-old downtrend on the daily bar chart. The silver bears have the solid near-term technical advantage.

Bulls' next upside price breakout objective is closing prices above solid technical resistance at last week's high of $29.00 an ounce. The next downside price breakout objective for the bears is closing prices below solid technical support at the December low of $26.50.

First resistance is seen at Tuesday's high of $28.775 and then at $29.00. Next support is seen at Tuesday's low of $27.975 and then at $27.78. Wyckoff's Market Rating: 3.0."
London Precious Metal
Major metals in London were mixed Tuesday. When comparing the most recent London PM fixings:
Gold declined $10.00, or 0.6%, at $1,582.50 an ounce,
Silver prices lost 32.0 cents, or 1.1%, to $28.07 an ounce,
Platinum was unchanged at $1,458.00 an ounce, and
Palladium climbed $1.00, or 0.2%, to $612.00 an ounce
U.S. Mint Bullion Sales
Sales of U.S. Mint bullion coins were unchanged Tuesday as of 3:36 PM ET.
The following are the available daily, weekly, May and year-to-date bullion coin sales totals as reported by the U.S. Mint.
U.S. Mint American Eagle and Buffalo Bullion Coin Sales
Daily Gains
May Gains
YTD 2012
American Eagle Gold Bullion Coins (1 oz.)
0
39,000
220,000
American Eagle Gold Bullion Coins (1/2 oz.)
0
2,000
53,000
American Eagle Gold Bullion Coins (1/4 oz.)
0
2,000
44,000
American Eagle Gold Bullion Coins (1/10 oz.)
0
15,000
150,000
American Gold Buffalo Coin (1 oz.)
0
7,000
62,500
American Eagle Silver Bullion Coins
0
2,017,500
13,676,500
America the Beautiful 5 Oz. Silver Bullion Coin Sales
Prior Weekly
Weekly Gains
All-Time Total
Olympic National Park 5 oz. Silver Coins
0
0
85,100
Vicksburg National Military Park 5 oz. Silver Coins
0
0
38,300
Chickasaw Park 5 oz. Silver Coins
0
0
28,900
TOTAL
0
0
152,300
All bullion coin sales in the above tables are in number of coins, not in the amount of ounces sold. The U.S. Mint last updated five ounce bullion silver coins sold on Monday, April 9, indicating none have sold since.