Next week will be a busy one for the United States Mint with the release of another popular collector product, the 2012 Mint Set, and the launch of first term Grover Cleveland Presidential $1 Coins within rolls, bags and boxes.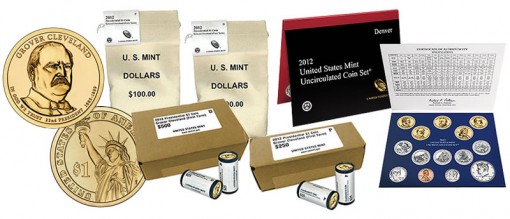 Beginning Monday, May 21, the U.S. Mint will offer its latest Uncirculated Coin Set, also known as the Mint Set. Twenty-eight coins, all in collector uncirculated quality, will be mounted within two durable folders. One folder with half of the coins will feature the ones minted in Philadelphia, and the other folder will have strikes from Denver. These are the two facilities responsible for producing United States coinage for commerce.
The price of the 2012 Mint Set will be $27.95. More information and purchase details are available on this U.S. Mint product page.
Friday, May 25, is the official release of the Grover Cleveland (1st term) Presidential $1 Coins. Seven products will feature the newest dollar honoring the 22nd President of the United States. Buyers will have the choice of rolls, bags, and boxes filled with Cleveland $1's minted in either Philadelphia or Denver. The products include:
25-coin rolls for $32.95 each
100-coin bags for $111.95
250-coin boxes for $275.95 each
500-coin boxes for $550.95 each
The Presidential dollar products will be available on this this U.S. Mint page.
As with prior launches, the U.S. Mint will make these numismatic products available on their respective release dates starting at 12:00 noon ET. Besides online ordering, purchases may be made using the bureau's Customer Service phone line at 1-800-USA-MINT.
The table below lists the Mint's product release schedule for the last part of May and the start of June.
Upcoming US Mint Numismatic Product Releases for May
| | | |
| --- | --- | --- |
| Release Date | U.S. Mint 2012 Numismatic Product | Product Price |
| 5/21 | US Mint Set | $27.95 |
| 5/25 | Grover Cleveland Presidential Dollar Rolls, Philadelphia | $32.95 |
| 5/25 | Grover Cleveland Presidential Dollar Rolls, Denver | $32.95 |
| 5/25 | Cleveland Presidential $1 Coin 100-coin Bags, Philadelphia | $111.95 |
| 5/25 | Cleveland Presidential $1 Coin 100-coin Bags, Denver | $111.95 |
| 5/25 | Cleveland Presidential $1 Coin 250-coin Bags, Philadelphia | $275.95 |
| 5/25 | Cleveland Presidential $1 Coin 250-coin Boxes, Denver | $275.95 |
| 5/25 | Cleveland Presidential $1 Coin 500-coin Boxes, Philadelphia | $550.95 |
| 5/25 | Cleveland Presidential $1 Coin 500-coin Boxes, Denver | $550.95 |
| 6/04 | Silver Proof Set | $67.95 |
| 6/07 | American Silver Eagle San Francisco Two-Coin Proof Set | TBD |
| 6/11 | Acadia National Park Quarter Two-Roll Sets | $32.95 |
| 6/11 | Acadia National Park Quarter Bags, Philadelphia | $34.95 |
| 6/11 | Acadia National Park Quarter Bags, Denver | $34.95 |
| 6/12 | Acadia Quarters Three-Coin Set | $9.95 |