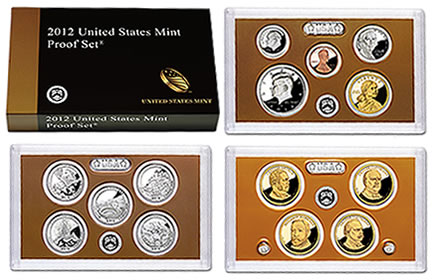 Debuting sales are in for the United States Mint's newly released 2012 Proof Set. The bureau on Tuesday reported that collectors ordered 243,494 between its launch on Monday, May 7, through to Monday, May 14.
Priced at $31.95 for a third straight year, the annual offering is expected to eventually attain the highest sales total of any 2012-dated collector product offered by the U.S. Mint. With a single week now under its belt, the set already holds the second spot as it tracks immediately behind the 2012-W Proof American Silver Eagle with its one month total of 367,276.
But the sales debut again highlights a recent trend of slower starts for proof sets that have culminated into lower ending sales. The following table of opening and ending figures for recent issues underlines that trend.
US Mint 2007-2012 Proof Set Sales Debut Figures
Issue
Price
Coins
Issue
Date
Debut Sales
Date
Debut Sales
Ending Sales
2012 Proof Set
$31.95
14
May 7, 2012
May 14, 2012
243,494

Still on Sale

(243,494)

2011 Proof Set
$31.95
14
January 11, 2011
January 16, 2011
253,144

Still on Sale

(1,076,856)

2010 Proof Set
$31.95
14
July 22,
2010
July 25,
2010
296,379
1,103,950
2009 Proof Set
$29.95
18
June 1,
2009
June 7,
2009
437,178
1,477,967
2008 Proof Set
$26.95
14
June 24,
2008
July 6,
2008
424,402
1,405,674
2007 Proof Set
$26.95
14
July 19,
2007
July 22,
2007
386,476
1,702,116
As indicated, the 2011-dated set remains available. It has often appeared this year on the U.S. Mint's top-ten weekly seller's list despite its length on sale. Its most recent weekly pick-up registered at 924.
This year's set includes 14 proof coins, all of which are produced at the U.S. Mint facility in San Francisco and bear a denoting 'S' mintmark. The set includes collector versions of all the coins intended for circulation, including the 2012 America the Beautiful Quarters honoring:
El Yunque National Forest in Puerto Rico
Chaco Culture National Historical Park in New Mexico
Acadia National Park in Maine
Hawaii Volcanoes National Park in Hawaii
Denali National Park in Alaska
It also features the 2012 Native American $1 coin with its one year reverse design depicting a Native American and horse, and it contains the 2012 Presidential $1 Coins honoring:
Chester A. Arthur
Grover Cleveland (first term),
Benjamin Harrison, and
Grover Cleveland (second term)
2011-2012 Proof Sets may be purchased directly through the U.S. Mint's online store at:
Orders may also be placed using the Mint's toll-free number, 1-800-USA-MINT (872-6468). Hearing and speech-impaired customers may order by calling 1-888-321-MINT (6468).