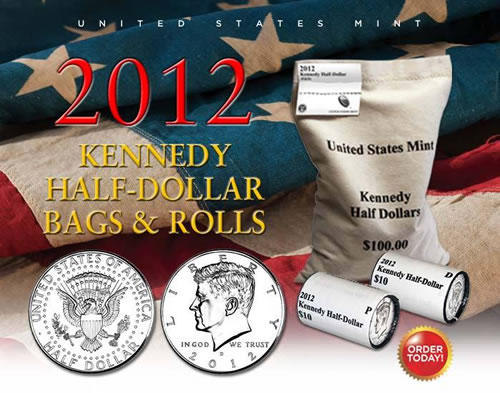 On Tuesday, May 15, the United States Mint made available bags and rolls containing 2012 Kennedy Half Dollars.
Bags of Kennedy Half Dollars are $139.95 and contain 200 coins in circulation quality for a face value of $100. Half of the coins are struck at the U.S. Mint facility in Philadelphia, so those have "P" mintmarks, and the other half are produced in Denver, with the "D" mintmarks.
Kennedy two-roll sets are $32.95. These sets also contain circulation quality coins from Philadelphia and Denver, one roll of 20 coins from each facility. The face value of each roll is $10, so the set's legal tender value is $20.
Compared to last year's issues, one Kennedy coin product costs more while the other is less. 2011-dated coin bags were $134.95 each ($5 less than new bags), and have not been available for some time. The two-roll sets from last year were $34.95 each ($2 more than new rolls). These older rolls went off sale today after the 2012-dated ones were released.
Since 2002, the U.S. Mint only strikes enough half dollars to meet numismatic demand and does not produce them for circulation. In 2010, production amounted to 3.5 million circulation quality strikes, and in 2011 there were 3.45 million produced. The 2012 production figures so far reveal 3.5 million were struck in January.
Order Bags and Rolls of Kennedy Half Dollars from U.S. Mint
Collectors can buy Kennedy Half Dollars directly from the U.S. Mint website. The two sales options, rolls or bags, are available on this online ordering page.
Orders may also be placed by calling the Mint's toll free number at 1-800-USA-MINT (872-6468). Hearing and speech impaired customers may call 1-888-321-MINT (6468). All domestic orders are charged a fee of $4.95 for shipping and handling.
There are no household order limits.
Other U.S. Mint Products Containing Kennedy Half Dollars
The U.S. Mint also produces Kennedy Half Dollars in collector uncirculated and proof qualities. Those strikes a part of three core annual sets. They include the 2012 Proof Set, which launched on May 7, the 2012 Mint Set, and the 2012 Silver Proof Set. The Mint Set is scheduled for release on May 21 and the Silver Proof Set is expected to debut on June 4.
Coins in both the Proof Set and the Silver Proof Set are manufactured at the U.S. Mint facility in San Francisco. The coins in the Mint Set, on the other hand, are minted in Philadelphia and Denver — like those found in bags and rolls.