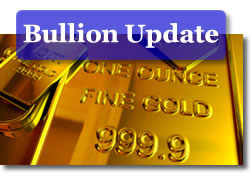 While platinum edged higher, gold, palladium and silver prices traded slightly lower Tuesday after data revealed better-than-expected U.S. manufacturing activity during the month of April.
"U.S. ISM manufacturing data came in stronger than expected Tuesday, which gave a modest boost to the U.S. dollar index and somewhat limited fresh buying interest in the precious metals," noted Kitco's Jim Wyckoff.

"However, the ISM report helped to propel crude oil prices higher and to a fresh five-week high, and that was a mild bullish input for the gold and silver markets. The market place is awaiting Friday morning's key U.S. employment report, which is arguably the most market-sensitive economic report of the month."
Gold prices for June delivery declined $1.80, or 0.1%, to $1,662.40 an ounce on the Comex in New York. Gold moved between an intraday low of $1,657.50 and a high of $1,672.30.
In other precious metals on Tuesday:
Silver prices for July delivery lost 8.6 cents, or 0.3%, to $30.930 an ounce. Silver prices ttraded between $30.790 and $31.365.

Platinum prices for July delivery added 40.0 cents, or less than 0.1%, to $1,572.30 an ounce, ranging from $1,560.40 to $1,578.60.

Palladium prices for June delivery declined $1.30, or 0.2%, to $681.05 an ounce, trading between $675.90 and $686.20.
London Precious Metal
Precious metals in London were split Tuesday. When comparing the most recent London PM fixings:
Gold advanced $12.75, or 0.8%, to $1,664.00 an ounce,
Silver declined 42.0 cents, or 1.3%, to $30.78 an ounce,
Platinum retreated $4.00, or 0.3%, to $1,566.00 an ounce, and
Palladium added $2.00, or 0.3%, to $681.00 an ounce
U.S. Mint Bullion Coins
Reported U.S. Mint bullion sales were limited to one coin on Tuesday. Rising on the day were one ounce America Eagle Gold coins. Sales of the 22-karat gold pieces surged 10,000, or more than half of the monthly total recorded for April. Last month ended at 19,000, making it the slowest sales month for the Eagle since December 2008.
The following are the available daily, May and year-to-date bullion coin sales totals as published by the U.S. Mint.
U.S. Mint American Eagle and Buffalo Bullion Coin Sales
Daily Gains
May Gains
YTD 2012
American Eagle Gold Coins (1 oz.)
10,000
10,000
191,000
American Eagle Gold Coins (1/2 oz.)
0
0
51,000
American Eagle Gold Coins (1/4 oz.)
0
0
42,000
American Eagle Gold Coins (1/10 oz.)
0
0
135,000
American Gold Buffalo Coin (1 oz.)
0
0
55,500
American Silver Eagle Coin
0
0
11,659,000
America the Beautiful 5 Oz. Silver Bullion Coin Sales
Prior Weekly
Weekly Gains
All-Time Total
Olympic National Park 5 oz. Silver Coins
0
0
85,100
Vicksburg National Military Park 5 oz. Silver Coins
0
0
38,300
Chickasaw Park 5 oz. Silver Coins
0
0
28,900
TOTAL
0
0
152,300
All coin sales in the above tables are in number of coins, not in the amount of ounces sold. The U.S. Mint last updated five ounce bullion silver coins sold on Monday, April 9.