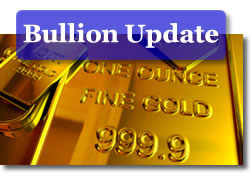 Gold prices dipped Wednesday as the U.S. dollar firmed and oil prices declined, market conditions that were flipped on the previous day when gold rose for the first time in three sessions.
"Dealers and technical analysts are still targeting the $1,600 pivot-point as the next logical test for the yellow metal, since bullish news that would propel it back to last week's high near $1,680 are indeed scarce," wrote Jon Nadler, Senior Metals Analyst at Kitco Metals Inc.
Gold prices for June delivery fell $11.50, or 0.7%, to $1,639.60 an ounce on the Comex in New York. Gold moved from an intraday low of $1,638.10 to a high of $1,655.20
"From my point of view, we have to see a good shakeout towards the downside first, perhaps to break $1,600, or even lower than that and after that we will probably head back up again," Afshin Nabavi, head of trading at MKS Finance said, according to Reuters.

"We are seeing very little demand from the physical dealers, very little demand from the investors, it's pretty much come to a standstill and I think we have to come off (in price)," he added.
Silver prices for May delivery declined 18.7 cents, or 0.6%, to settle at $31.487 an ounce. Prices reached a low and high of $31.340 and $31.885.
Platinum prices for July delivery settled down $5.50, or 0.3%, to $1,579.20 an ounce, ranging from $1,575.60 to $1,595.30.
Palladium prices for June delivery lost $4.70, or 0.7%, to $657.25 an ounce, trading between $656.50 and $665.00.
London Precious Metal
Excluding a slight dip in silver prices, London precious metals rose modestly. In comparing the most recent London PM fixings:
Gold gained $8.50, or 0.5%, to $1,644.00 an ounce,
Silver prices lost 3.0 cents, or 0.1%, to $31.61 an ounce,
Platinum stacked on $4.00, or 0.3%, to $1,578.00 an ounce, and
Palladium also advanced $4.00 with a percent gain of 0.6% to a fixing of $657.00 an ounce
U.S. Mint Bullion Coins
Sales of U.S. Mint bullion coins were unchanged Wednesday as of 3:16 PM ET. The following are the available daily, April and year-to-date bullion coin sales totals as provided by the U.S. Mint.
Sales of U.S. Mint American Eagle and Buffalo Bullion Coins
Daily Gains
April Gains
YTD 2012
American Gold Eagles (1 oz.)
0
12,000
174,000
American Gold Eagles (1/2 oz.)
0
0
51,000
American Gold Eagles (1/4 oz.)
0
0
40,000
American Gold Eagles (1/10 oz.)
0
5,000
135,000
American Gold Buffalo Coin (1 oz.)
0
7,000
53,500
American Silver Eagle
0
880,000
11,019,000
Sales of America the Beautiful 5 Oz. Silver Bullion Coins
Prior Weekly
Weekly Gains
All-Time Total
Olympic National Park 5 oz. Silver Coins
0
0
85,100
Vicksburg National Military Park 5 oz. Silver Coins
0
0
38,300
Chickasaw Park 5 oz. Silver Coins
200
0
28,900
TOTAL
200
0
152,300
All bullion coin sales in the above tables are in number of coins, not in the amount of ounces sold. The U.S. Mint last updated five ounce bullion silver coins sold on Monday, April 9.