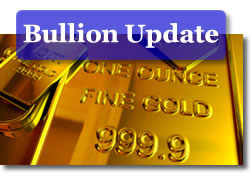 U.S. stocks and commodities, to include gold, silver and other precious metals, plunged Wednesday in a free fall that began Tuesday after minutes from the latest Fed policy meeting dampened expectations for another round of quantitative easing.
"Underscoring once again just how much of a premium Fed QE3-oriented expectations had added to certain market price equations, gold fell out of bed on Tuesday afternoon after the ritual parsing of the Fed's March 13 meeting minutes left many a smugly hopeful bullish participant with nothing but… hope to hang onto, as their trades/bets (as well as sentiment) soured very fast," Jon Nadler, Senior Metals Analyst at Kitco Metals Inc, noted in his latest In The Lead commentary.

"This morning, the meltdown continued in gold, but this time, unlike during yesterday's after-hours electronic trading, silver and the noble metals joined gold and fell hard as well. Once again, the only green color to be seen on the trusty new Kitco iPad app was the net change in… the greenback."
Gold prices for June delivery declined $57.90, or 3.5%, to $1,614.10 an ounce on the Comex in New York. It was the lowest settlement price for gold since January 10. The yellow metal moved from an intraday low of $1,614.00 to a high of $1,649.50.
Silver prices for May delivery plummeted $2.221, or 6.7%, to settle at $31.044 an ounce. Silver touched a low and high of $30.98 and $32.68.
"The move is more pronounced in silver as people look at silver both as an industrial metal as well as a precious metal," Gijsbert Groenewegen, a partner at Silver Arrow Capital Management, said in a telephone interview in New York that was relayed on Bloomberg.
Platinum prices for July delivery fell $61.90, or 3.7%, to $1,598.60 an ounce, trading between $1,598.00 and $1,652.00.
Palladium prices for June delivery closed down $26.85, or 4.1%, to $632.75 an ounce, ranging from $630.75 to $657.70.
London Precious Metals
Earlier fixed London precious metals were pounded as well. When comparing the most recent London PM fixings:
Gold declined $55.25, or 3.3%, to $1,621.00 an ounce,
Silver fell 99.0 cents, or 3.0%, to $31.98 an ounce,
Platinum lost $43.00, or 2.6%, to $1,616.00 an ounce, and
Palladium retreated $13.00, or 2.0%, to $647.00 an ounce
U.S. Mint Bullion Coins
Sales levels of U.S. Mint bullion coins were unchanged as of 3:15 PM ET. The following are the most recent daily, April and year-to-date bullion coin totals as provided by the U.S. Mint.
Sales of U.S. Mint American Eagle and Buffalo Bullion Coins
Daily Gains
April Gains
YTD 2012
American Gold Eagles (1 oz.)
0
3,500
165,500
American Gold Eagles (1/2 oz.)
0
0
51,000
American Gold Eagles (1/4 oz.)
0
0
40,000
American Gold Eagles (1/10 oz.)
0
5,000
135,000
American Gold Buffalo Coin (1 oz.)
0
3,000
49,500
American Silver Eagles
0
320,000
10,459,000
Sales of America the Beautiful 5 Oz. Bullion Silver Coins
Prior Weekly
Weekly Gains
All-Time Total
Olympic National Park 5 oz. Silver Coins
200
0
85,100
Vicksburg National Military Park 5 oz. Silver Coins
200
0
38,300
Chickasaw Park 5 oz. Silver Coins
0
0
28,700
TOTAL
400
0
152,100
All bullion sales in the above tables are in number of coins sold, not in the amount of ounces sold. The U.S. Mint has not sold five ounce bullion silver coins since Monday, March 26.